Almost all public buildings need to make sure they have adequate ADA compliant signage and that includes both the interior and exterior of buildings and parking lots in Cuyahoga County, Ohio. Regulatory signage that informs of codes, ordinances and regulations are also required in many locations. If you need these types of signs, Epic Signs & Graphics is the commercial sign company that can meet these signage needs.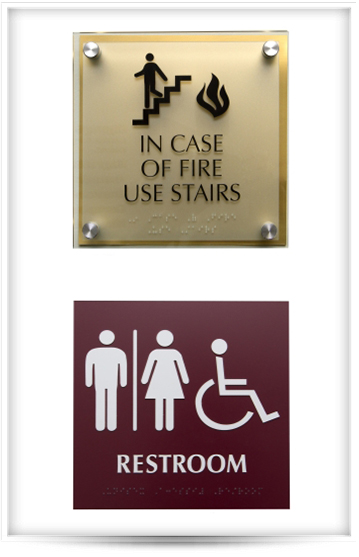 ADA Compliance Signage
The Americans with Disabilities Act (ADA) requires specific requirements for both interior and exterior signage. Some of these requirements include:
Size and character or letter height

Font and typeface

Contrasting colors

Non-glare finishes

Proper mounting locations

Recognizable and universal symbols
The State of Ohio may require additional signage based on state rules and regulations. Local codes may also come into play. This is where Epic Signs & Graphics excels-to make sure your property is ADA compliant.
We offer Grade II Braille signs-these are raised dots to accompany any text on directional signs as well as raised letters or numbers. To be sure you are ADA complaint, these signs must be on restrooms, exits, stairways, elevators and to inform about handicap access.
Your public building may also need an emergency evacuation map (EVAC) to direct people where to go in case of a building fire or other disaster. We are also able to Braille any sign.
Regulatory Signs
Public buildings and parking areas may also have to place signs that inform of:
Our commercial sign company has worked with local and state governments and with general contractors and architects to make sure they have required regulatory signage. We use heavy-gauge aluminum for regulatory signs and can also add reflective materials so they are visible at night.
Our signs can be based on standard formats or they can be customized to match areas and buildings. We can also create regulatory signage in screen-printed, digital graphics or vinyl materials. Above all, our ADA compliant and regulatory signage will stand up to the ever-changing Ohio weather conditions.

Reasons to Call Us
If your building or outside areas are audited by city or township inspectors, fire departments or the local ADA office and you are void of ADA compliant signs or the required regulatory signs, you may face a costly penalty.
We encourage you to call us if you need ADA compliant or regulatory signage in Cleveland, Parma, Parma Heights, Olmsted Falls, Middleburg Heights, Berea, Strongsville, Brookpark, Brooklyn, Old Brooklyn, Seven Hills, Independence, Lakewood, Fairview, Rocky River, and Bay Village Ohio. Our expertise in these areas guarantees your building and exterior areas will be complaint and follow all the required signage rules set by local, state or federal codes.