Stop, Look, and Listen!
Are Your Fire Safety Signs in Compliance?

---
As companies push their return-to-office dates into 2022, now is a good time to evaluate your buildings for fire code compliance while your buildings are still empty or well-below occupancy.
Fire safety signs are an important part of your emergency preparedness plan. Unique safety signs serve different purposes. Epic Signs is your one-stop shop for a wide range of safety signs including interior and exterior wall signs, vinyl signs, reflective stairwell signs, and more.
Typical signs required by the International Fire Code include:
Fire Department Connection Signs
Approved signs are required to identify fire protection equipment and must be visible and permanently installed using durable materials.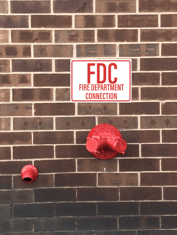 Utilities Signage
Approved signage for utilities such as gas shutoff valves, electric meters and other utility equipment are required to be clearly marked and maintained.
Stairway Identification Signs
Code-compliant signage is required at each floor landing in an interior exit stairway connecting more than three stories. Stairway signs must comply with a range of code requirements including sign and lettering size, content of the message, location, and type of material used to insure durability.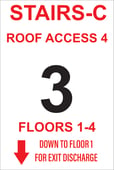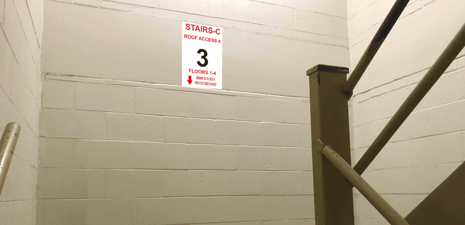 Elevator Signs
Elevator signs that identify location and evacuation instructions are necessary to maintain order and safety in the case of an emergency.
Area Of Refuge Signs and Accessible Means Of Egress Signs
Businesses are required to designate an area of refuge within their buildings designed to house occupants during an emergency when evacuation may not be safe or possible. Proper accessibility signage is required to identify these areas.
Other signs to consider while evaluating your facility for fire safety are address/premises identification signs, illuminated exit signs, fire lane signs, and others.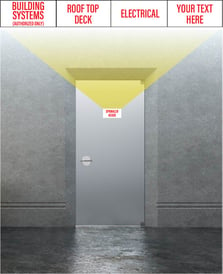 Not sure if your safety protocols and signage are compliant with current fire codes?
Epic Signs stays up-to-date with local fire ordinances and can consult with you about the best materials to meet your needs, including vinyl, metal, dimensional, flat and reflective signs. Call 440-799-8235 or email John@EpicSignsCleveland.com for more information.