Although a full body vehicle wrap can be a really effective marketing tool - and is also something that we specialize in, here at Epic - there are other options for vehicle marketing that should be considered.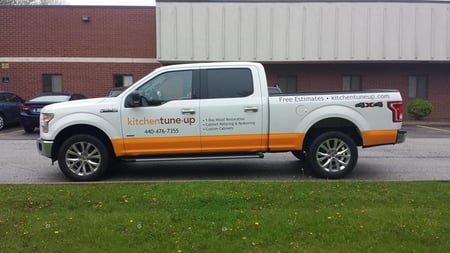 Having some clean, effective decals or lettering on a company vehicle is a great way to catch attention and market your business to new clientele. There are a few great reasons to think about using decals and lettering on your fleet.
Name recognition: People naturally trust a company that they have heard of already. Whether it is from a personal recommendation or seeing your fleet out around town, people will recognize your company's name and think 'oh yeah, I've heard of them. I should give them a call!' Over 95% of Americans are reached by media targeting vehicle drivers, and there is a reason all those huge companies do it - it works.
Positive image: Your image and brand is everything in business. You want only positive things to be associated with you, and one great way to do that is to make sure that your company cars are professional looking. Having clean, professionally done truck lettering is a surefire way to add a presentation of professionalism. This is especially helpful for businesses just starting out, who would like to build trust in the community. A good first impression helps more than anything else!
It's a great return on investment: In terms of bang for your buck, vehicle decals and letters (as well as wraps) count among some of the highest ROI. An expert in advertising estimated that the cost per thousand impressions for vehicle-based marketing is $0.04. Compare that to the $3.56 per thousand impressions that a billboard gets and it's obvious which is the better deal!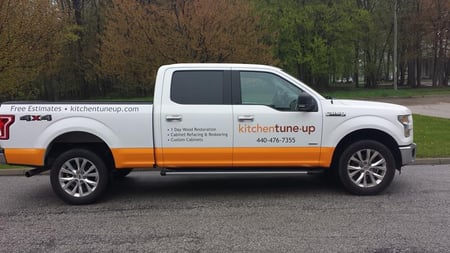 When Kitchen Tune Up came to us, they had a solid idea of what they wanted, in the form of a corporate branding guide, color scheme, fonts, sizes, and all other variables. This is a great way to start a design partnership, as we could begin the process quickly. Working with the corporate marketing department, we created an effective look that completely reflected their company goals, strategy and look. After minor revisions, our professionals installed the great looking signs that they wanted on their fleet.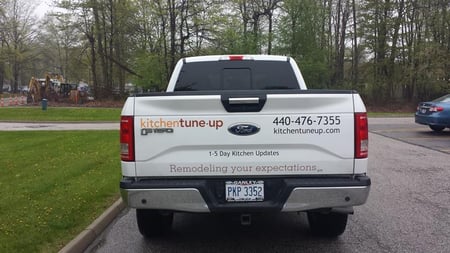 At Epic Signs, we work with your company to create exactly what you want. Whether a business with one car, or a whole corporate fleet, we'll create the precise look that you're going for.