Moving into a new office space is the perfect time for a business to take a look at their signage. What are your signs communicating to your clients? Are they creating a first impression that is professional, clean and attractive? Old, broken or weathered signage will communicate a much different impression than clean, precise and clear signs.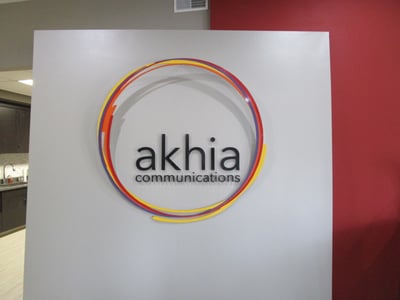 People tend to go with their gut - and their first impressions - when they are choosing who to give their business to. When Akiah Communications came to us about their new office space, we knew that producing top quality signs for them would help drive business. We met with them about what they wanted, and our experts helped them determine the most effective and impactful way they could incorporate their logo into signage that would really make an impression on their clients.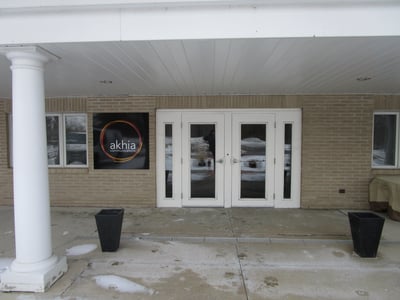 1. COLORS CAN MAKE YOU STAND OUT IN A CROWD
Just a few pops of color can draw the eye - and jog the memory! Using our top-of-the-line techniques, we can print full color on vinyl, creating the exact look our clients want. We used clear, sharp lines coupled with vivid colors on both interior and exterior wall signs for Akiah Communications. Laminate was then applied to make sure the colors won't fade, keeping the signs looking great for the long haul. Then the signs were mounted on ¼" aluminum sign panel with a PVC core, for added durability.
2. USE 3-D TO MAKE A SIGN POP
The interior wall sign for Akiah Communications was an interesting challenge for our experts - and one that they knocked out of the park! Using a router, we created the detailed shape, carefully placing the vinyl so that the detail was not lost and all colors aligned. Next, the client wanted added dimension on the sign, so it was decided to place the sign at an angle. From the idea to the execution, our experts guided the client through the process to make sure that the final product exceeds expectations.
3. PARKING SIGNS CAN CREATE A GREAT IMPRESSION - IF YOU DO THEM RIGHT
Many businesses decide to go with standard parking signage, which is fine, but it does not make much of an impression on potential clients. To really stand out, it was decided that a more conversational tone would be appropriate, politely asking people not to park in Akiah parking spaces, rather than threaten a tow. The friendly tone will make an impression - and of course our proofreaders made sure that every letter and comma was correct before production.