When a customer of ours purchased a golf course, we were happy to help with a new look. To reflect the new ownership and the pristine shape of the greens, Coppertop Golf Club enlisted our help to refresh and elevate the longstanding exterior signs in Valley City, Ohio.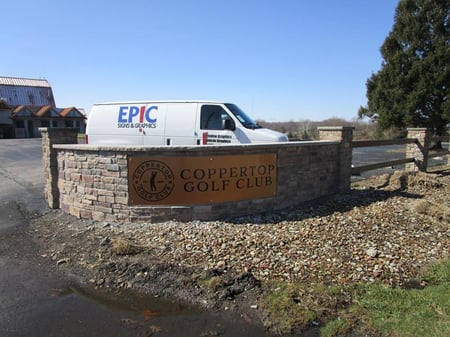 When golfers and families pull into the club parking lot, they're now greeted with signs, mounted onto the stone walls that mark either side of the entryway. The Coppertop Golf Club signs were fabricated from aluminum panels with a copper vinyl application, with text and graphics die cut from black vinyl and applied overtop. Both signs were installed with offsets in the corners, as well as in the center, on both top and bottom, to allow for a simpler installation and a streamlined finish (instead of using regular screws to anchor the sign in place).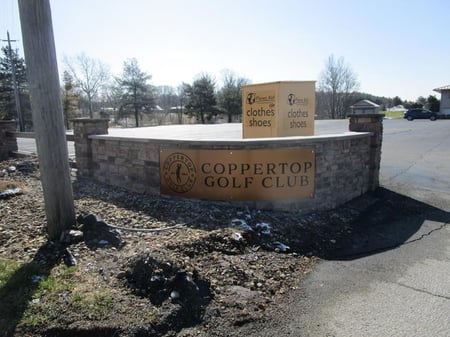 Your on-site exterior building signs should be the cornerstone of your marketing strategy. A Signs.com study found that 50 percent of customers discovered businesses because of their on-premises signs. That same study found that 85 percent of your customers live within a five mile radius of your business -- don't let a poorly designed or placed sign let your business down!
Coppertop Golf Club also added directional signage to the parking lot, implementing a strategic directional system for the course and clubhouse. Once golfers and other visitors enter the property, they're easily able to navigate to the bar area, patio, snack bar and restrooms. The directional signage also carries through the look of the exterior entryway signage, with copper vinyl and black die cut vinyl text in a matching font.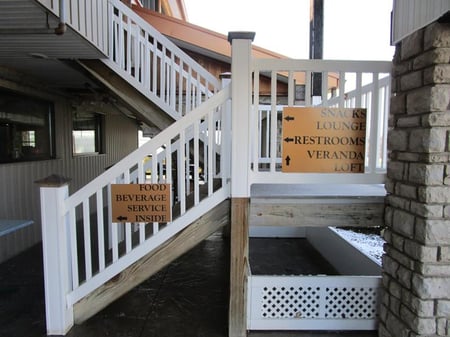 A study by Signs.com found that the addition of just two new directional signs resulted in an average increase in sales of 8.9 percent for businesses! If you're unsure whether your business or property is in need of directional signage, give us a call to consult with our talented team to see if you can benefit from an updated or additional exterior sign.
Call us today to see how your Cleveland area business can benefit from a signage update or upgrade!