Picture this: A patient is running a few minutes late for his appointment at your dental office and not only is he anxious about the impending procedure, he is unable to find suite numbers or company names listed anywhere. After much guesswork, when he finally does reach your office, your receptionist scolds him for being late and tells him that he must reschedule the appointment entirely. Because office signs for identifying suites and directory signs to show people the way were not clear or not available, it was not easy to locate your office. Will your customer be happy to re-schedule?
So much heartache could have been avoided in the scenario above if all businesses and professional offices in Cleveland, Ohio invested in directory and suite signs.
Affordable Way to Direct and Inform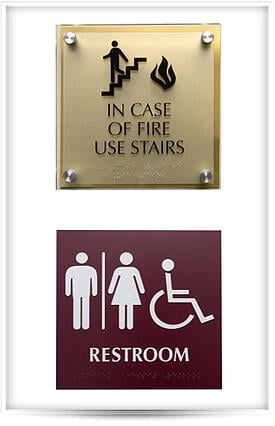 But this isn't solely true of medical professionals. Regardless of whether your organization is a school, law firm or apartment complex, your sign makes the first impression on any potential client or competitor. It is your "signature" and conveys information about your brand long before you ever make the sales pitch. A custom lobby sign is a great way to artfully represent your business, solidify branding and is often an inexpensive way to advertise.

At Epic Signs & Graphics, we are experts in crafting custom designs based on your branding strategy, and can breathe new life into any sign!

Our lobby signs are reasonable in price, and we fabricate office signs and ADA signs with quality materials. Depending on the factors involved we can install with custom frames or stand-offs and can even use double stick tape or double stick magnetic tape for updating plaques as needed, no fuss, no muss. For heavier signage, it's easy to install studs behind the signs to ensure they are secure and our installation experts can hang all of your signs on your schedule.

Additionally, it is not uncommon for us to mount custom dimensional letters to a pre-installed background panel for a completely finished, high-style lobby sign. Lobby signs can include not just text in a variety of fonts but also your logo or graphics.
We've seen and done a little bit of everything over the years. Below are just a few of our favorite ways to get the most out of your directory or suite signs for Cleveland OH.
Best Uses
Our commercial sign company is adept at finding the best uses for directory and suite signs including:
Large office complexes - Set yourself apart from the hundreds of other suites contained within the same venue.
Office buildings - Imagine your sign or logo on doors, lobbies or reception areas advertising your business 24/7.
Medical or dental complexes - Make it easy for patients to find your offices in time for their appointments and avoid scheduling mishaps.
Schools - All the way from preschool to universities, show your school pride.
Hospitals and laboratories - These areas can make consumers anxious. Why not make it as easy as possible to get around and find the correct room or lab?
Imaging and X-ray offices - Whether dealing with broken bones or potential illnesses, being lost should be the last thing your clients have to worry about.
Apartment complexes and leasing offices - Let us outfit your apartment complex with a uniform set of numbers.
Community libraries and recreational centers - Did you know we can even incorporate braille? With Epic Signs & Graphics, we make sure your signs are in compliance!
Gyms and co-ed physical fitness centers - As fun as it is to work out, many folks might not be totally comfortable showering or changing in front of the opposite sex. Our signs can help you designate gendered changing spaces.
Banquet halls - Part of the fun of dining in a banquet hall is the name. Show yours proudly with a plaque or suite sign.
Convention centers - Notoriously large and designed to house thousands of people at a time. Avoid any unnecessary confusion with our custom interior signs.
Custom office signs are well worth the investment. Especially if it helps to ease tension with your customers and effectively promotes your brand. Give us a call today or click on the action button below to obtain your free quote!