If you are not using your fleet of trailers to connect with prospective customers, you are missing a grand opportunity to build your brand. Whether you are advertising to other companies or directly to consumers, trailer graphics get your name out there as you roll down the highway. With trailer graphics, Northeast OH businesses build consistency and memorability for their brand. Or-Tec recognized this, so they contacted Epic Signs & Graphics for vinyl graphics for their trailer.
A Little About Or-Tec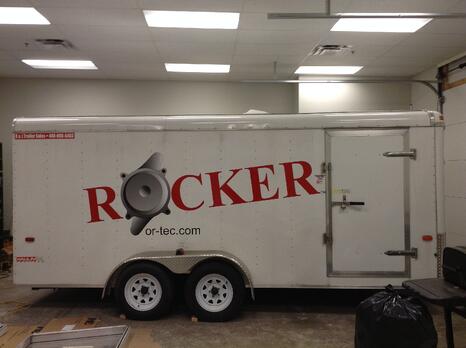 Located on Industrial Avenue South in Maple Heights, Or-Tec, Inc. is a premier manufacturer of top quality wastewater treatment equipment for the industrial and municipal marketplace. In the three decades since they first opened their doors, Or-Tec has gained a reputation throughout North America for their excellence in manufacturing, reliable service, and state of the art technology.
When such a world renowned company came to us for vehicle graphics, we were more than happy to help out. Or-Tec wanted to promote one of its best-selling products, the Rocker Disk Screw Press. After getting a rough idea of what they wanted, our designers developed a logo for the product that the client was thrilled with. Using our wide format printer, we digitally printed it out on vinyl using full color. We then laminated it, so the graphics would stand up to the elements. In the end, Or-Tec was completely satisfied with the finished product.
Are Trailer Graphics Right for You?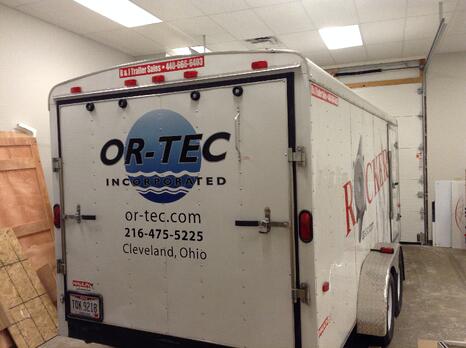 We provide solutions for every kind of trailer, including enclosed trailers, semi-truck trailers, box trailers, and everything else. We can create and install a full wrap for your trailer. However, if this is out of your price range, you should consider some of these alternatives:
Partial Wraps – With custom partial wraps, your trailers become seven days a week, 24 hours a day mobile billboards. We can ensure your wrap will match all of your other marketing materials with our exact color matching system. This is crucial for brand consistency. In addition, with a partial wrap, old trailers can be made to look like new.
Vinyl Lettering – You may think of the standard, boring, black-on-white lettering when you first hear of vinyl lettering. However, in the past decade, vehicle lettering has come a long way. There are now reflective, metallic, matte, neon, and other options in every color. Our letters come from top manufacturers, such as 3M.
Vinyl Lettering with Spot Graphics – For fleet branding, combining custom trailer spot graphics with vinyl lettering will achieve the impact you desire. These graphics can depict anything from your company logo to images of your products or services. You may also want to include calls to action or a Facebook or Twitter badge to help customers connect with you through social media.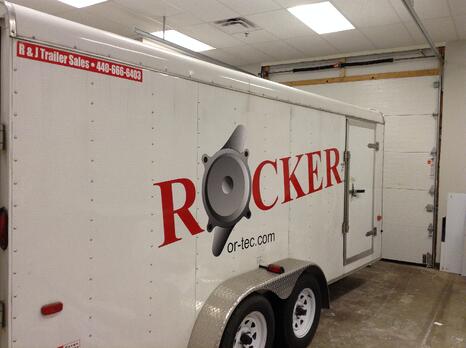 As a full service commercial sign company, we have experience performing every step of the process of providing you with industrial trailer graphics. Northeast OH business owners who are ready to use their trailers to their full marketing potential will be amazed by what we can do with such a large canvas. Contact Epic Signs & Graphics today for a free consultation and quote.
And, we received a fantastic customer testimonial:
I had a very pleasant experience with John and Epic Signs.
We are very pleased with the finished product and will be using them in the future.
Lurleen D. McNair
Administrative Sales Coordinator
OR-TEC, INC.