If you own or manage an auto dealership, you know how competitive it can be to close every customer. Turning those "Ups" into sales conversions is your ultimate goal. You need an upper hand on your competitors, so buyers will come to you for their next car purchase. One option that has proven effective is Cleveland auto dealership showroom banners that are custom made for your enterprise. This is exactly what Ganley BMW of Middleburg Heights did, and they have been reaping the benefits ever since.
A Little Information About Ganley BMW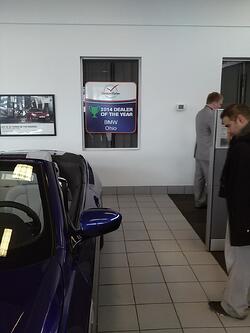 Since 1986, Ganley BMW has been an official BMW Franchise. They serve Elyria, Cleveland, Strongsville, Akron, and of course Middleburg Heig
Ganley BMW takes pride serving both out of state clients and the local community. They are located just ten miles from the Cleveland airport on Pearl Road just off I-71. They sell luxury BMWs as well as pristine used cars. They also have a full team of car service gurus full of passion and expertise to make sure their customers' BMWs serve them well.hts. They are a proud automotive leader in the community. Ganley BMW offers a simple purchasing process and has the widest array of BMWs. They attribute their success and longevity to maintaining a solid commitment to their customers.
Quality Banners to Showcase a Quality Company
Auto dealerships can get signs directly from the manufacturer. So, why would a dealership like Ganley BMW instead go with a sign company like Epic Signs & Graphics? There are four big reasons
Quality – Signs are what we do. Auto manufacturers are not focused on designing and creating signs. They also do not invest the capital in the latest technologies. We do, and it shows in our superior quality.
Customizability – Auto manufacturers are rarely willing to customize signs for specific dealerships. Instead, they produce boring, cookie cutter banners and posters for all of the dealerships around the world. We can create signs to highlight a particular car you want to push, promote an upcoming sales event, or to just showcase your company name.
Cost – We are able to generate signage at a fraction of the cost manufacturers charge. We are familiar with the most affordable and durable materials for banner production. We pass this savings along to our customers.
Money goes back to the community – We are a local business just like Ganley BMW. When auto dealerships choose us for their signage needs, the money stays local instead of heading to some out of state or out of country corporation.
Highly Skilled Graphic Design
One hesitation automotive dealers may have about going with a local sign company instead of the manufacturer is that the colors and logos may not be uniform. Fortunately, modern technology has made that concern obsolete. Our state of the art computer programs can match colors perfectly and easily incorporate the necessary logos. Plus, everything is entirely customizable. We also offer quality vehicle wraps and graphics for parts delivery trucks and courtesy shuttles.
When we are creating showroom banners for Cleveland auto dealerships, we take great pride in helping a fellow local business. We know the success of area businesses can only help improve Cleveland. Call us today if you are interested in eye-grabbing showroom banners like those featured at Ganley BMW. Or, click the button below for a free quote!