The business world is a busy place with companies merging and buying each other out all the time. Plus, to keep up with the times, you need access to new product offerings that utilize the latest technology. Part of promoting these changes to your enterprise is updating your signage to reflect your branding and marketing campaigns. Great Day Improvements recognized this signage need and called Epic Signs & Graphics to help them refurbish their cabinet and monument signs for their Cleveland offices. We were also able to help with an exterior banner sign!
The Client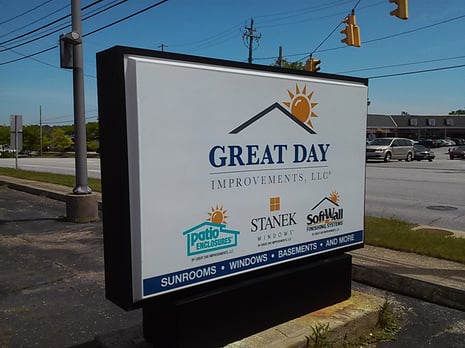 Great Day Improvements, headquartered in Macedonia, OH, provides real home improvement options. They are the exclusive installers and manufacturers of Stanek Windows, Patio Enclosures brand screen rooms and sunrooms, and most recently SoftWall Finishing Systems. Their goal is to make your door, sunroom, basement finishing, or window project stress free and simple.
When a company that provides such a valuable service to local homeowners came to us for updates to their cabinet and monument signs in Cleveland, we quickly went to work. Great Day wanted us to create outstanding signs that showcased their major brands. Our first step was to get them a quote in a hurry. Once they were happy with that, we secured all of the necessary permits from the city and removed the old vinyl.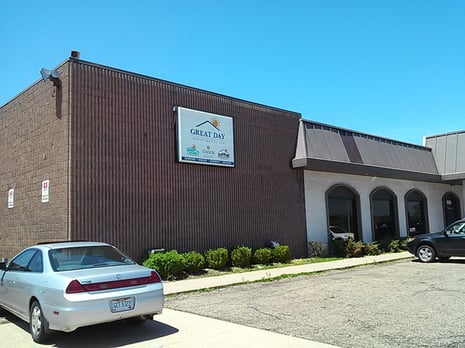 Using our HP 25500 Latex printer, we perfectly replicated Great Day's logos and colors on premium white vinyl for both signs. We then reinstalled the new faces. And, over the faces we applied UV rated laminate to ensure the signs would remain vibrant for many years to come. We not only saved them money by not performing an unnecessary total replacement of the signs, but we performed the work efficiently and fast.
For their banner sign, Great Day Improvements provided the art and we completed the printing and installation. The material for this exterior banner is 9-ounce mesh banner material which works great to keep wind from pulling it off the wall. It was Installed using 3-inch galvanized screws and anchors. The sides were reinforced with webbed hems to provide more security and to prevent damage from outdoor weather.
We Can Help with Your Exterior Building Signs in Cleveland!

We have whatever signs you could possibly need thanks to our wide variety of cabinet and monuments signs in Cleveland. We are experienced going through the permitting process, so we can save you the hassle.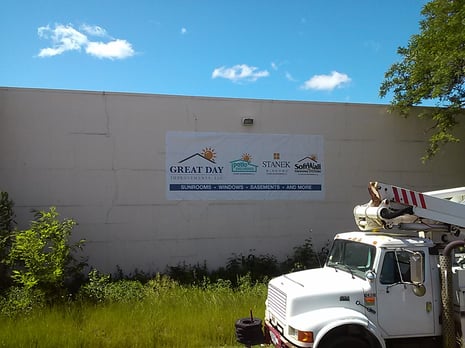 Monument signs are among the most recognizable signs you will see around town. These are designed to stand out as you drive down the road, so you can see a business with plenty of time to slow and turn into it. Without a monument sign, your clients will likely have trouble finding you, and they may become frustrated and take their business elsewhere.
Cabinet signs are typically found on the building itself, near your front door. Cabinet signs are often illuminated. This helps you advertise your business 24 hours a day, seven days a week. We specialize in both illuminated and non-illuminated cabinet signs. If you are just leasing your storefront, we can work with your landlord to make certain your signs are up to their standards.
Our banners can be printed and installed quickly and we only use heavy duty vinyl for all of our banners.
Quite often, clients come to us for a completely new sign to replace their old sign. We will take a look at their old sign and discover that an update will work just as well while saving the client money. If you are unsure of whether you need a brand new sign or just a new face, contact Epic Signs & Graphics for a free consultation! We are experts at refurbishing exterior building signs in Cleveland!