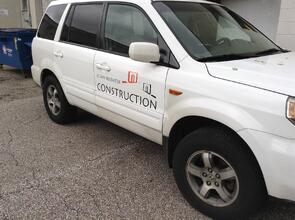 Car wraps have been getting a lot of publicity lately thanks to how visible and simple to use they are. But, did you know that there are a variety of other vehicle graphics to pick from as well? With Epic Signs & Graphics many types of vehicle graphics, Cleveland business owners can get the best design solutions for their budget, company, and brand. Some or all of the following graphics are great for area enterprises:
1. Full Vehicle Wraps
Full car wraps are used to cover an entire automobile whether it is a car, trailer, or truck. Epics Signs & Graphics is always fabricating, installing, and designing full vehicle wraps for nonprofits, the pickups and vans of contractors, and for the car fleets of corporations. When it comes to vehicle graphics, this is your most expensive option. However, since it turns the most heads, a full wrap is well worth the price tag.
2. Car Decals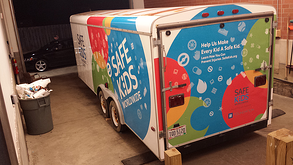 You can advertise your business with decals without paying as much as you would for vehicle wraps. With car decals, you can pick whatever size or design you want. Large two foot by two foot square graphics are popular for cars and trucks.
3. Partial Vehicle Wraps
Using the same materials that we would use for a full wrap, partial wraps only cover a portion of the car. Whether you are buying them because of budgetary restraints or for aesthetic reasons, partial car wraps provide an intriguing look. Rather than completely covering the car, the color of the truck is incorporated into the design of the partial wrap.
4. Rear Window Graphics
You can use rear window graphics as part of a full vehicle wrap or it may be the only graphic placed on a car. These graphics are perforated to allow the driver to still see through the window. And, there is a full color image viewable to people on the outside.
5. Truck Lettering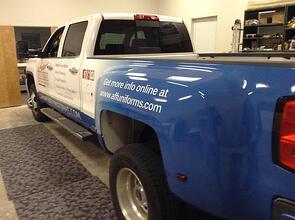 To identify their business licensing, specific companies are legally required in some areas to have information on the side of their work trucks. Truck lettering is typically used to satisfy this requirement. However, this affordable vehicle graphic option has so many other uses as well. Using metallic, neon, reflective, matte, or just plain vinyl of any color is great for making your business's web address, name, and phone number stick out.
With vehicle graphics, Cleveland enterprises can promote their company to people all around town just by going for a drive. Whether you are on your way to a sales meeting or the jobsite or you are just running errands on the weekend, this marketing tool is always effective. With vehicle wraps, seven days a week, 24 hours a day, you will have a billboard on wheels promoting your business.
For many years now, Epics Signs & Graphics has been designing top notch car graphics in and around our home base in Cleveland. If you would like to know what we can do for you, contact us for a free consultation!