Take a look around your office, what do you see? Step outside yourself and really look close. Is it an inviting space or is it cold and bare? The signage displayed in and around your offices can affect not only your employee morale but also client perception. If you're a customer-oriented business, your interior office signage is your first chance to make a great impression. Make sure your office signs convey the message and atmosphere you want customers and prospects to experience when they walk into your business.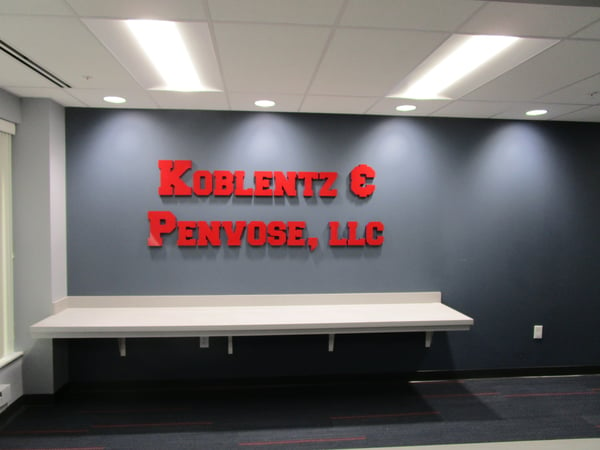 What is the first thing you see when you enter your office lobby or reception area? What does the lobby area convey to potential clients? If your reception area is lacking signage or is composed of bare, white walls, it's time to re-evaluate your lobby office area and make it stand out and feel inviting for all who enter.
Cleveland attorneys and counselors at law, Koblentz & Penvose, LLC recently contacted us to help revamp their reception and office areas. To really make an impact, Koblentz & Penvose chose to use dimensional wall lettering that literally pops!
Fabricated with one-inch thick hard foam lettering and a custom paint color, Koblentz & Penvose chose a design and material that looks durable and heavy but is actually light and easy to handle. Comprised of GemLeaf, the letters are laser cut to create an ultra-clean design, and feature a thin metal laminate that produces a high-quality effect to the finish -- you'd never know that these letters are ultralight!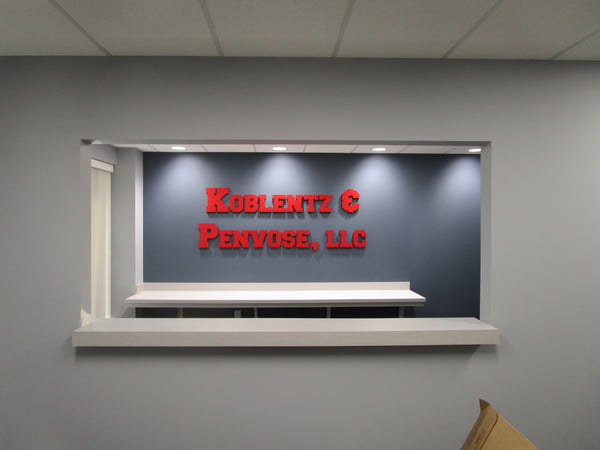 Measuring twelve-inches tall, Koblentz & Penvose's office signs were applied by flush mounting them flat, directly to the drywall with strong double stick tape and secured with stud mounts. Gemini letters come with a lifetime warranty if the material should ever fail and are ideal for interior business signs. The entryway to this law office now stands out from the rest!
If you're looking to update your business space, consider creating custom interior signs to incorporate throughout. Not only will it breathe new life into your existing space, it can inspire employees and leave a positive, lasting impression upon clients. Call today for a consultation to design the perfect look for your office.