Did you know that 60% of car owners have a bumper sticker on their car? It makes sense—it's a great way for people to express themselves, their beliefs and businesses. Sometimes they provide a chuckle to others on the road, or a sense of solidarity when we support the same sports' team. But in more recent years, people have been turning to car magnets to accomplish the same thing, but without damaging the paint job. Particularly for business marketing—it's such a simple and inexpensive way to make your business card mobile.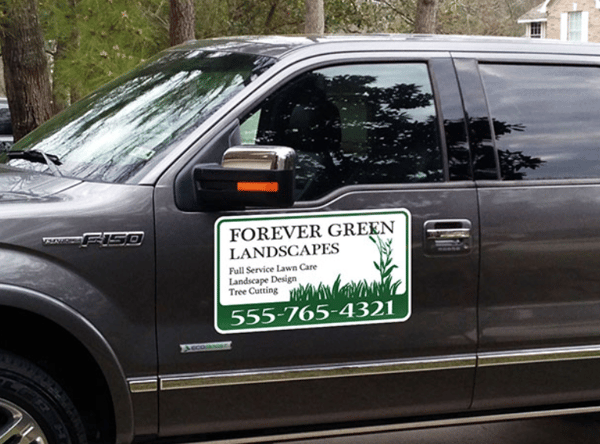 Benefits of Car Magnets
Marketing your business through car magnets is a no-brainer:
Ease of Use: It is not only easy to attach and detach it from any vehicle, but it's fast and easy to apply. It also won't damage the paint job on your car, plus they are UV resistant and durable.
Increased Brand Awareness: By attaching a magnet to your car promoting your business, you are exposing people to your business in places it wouldn't normally go DAILY. You'll get increased brand exposure without breaking your marketing budget.
Length of Exposure Outweighs the Cost: After purchasing your magnet and applying it to your vehicle, your promotion will be visible for years. A newspaper ad, for example, requires monthly fees to continually run. The average car magnet lasts two years.
Create a Branded Vehicle: If you're considering wrapping your car, applying a car magnet is a less-expensive way to try this form of advertising. You can easily make any vehicle branded with your business. Plus, it's perfect for delivery services!
Customizable: You can choose the size, colors and design. Use it for a special promotion, create a seasonal offer, or just generally promote your business. With them being so easy to install and remove, you can change them out easily, making your promotions truly customizable and a great way to promote different things on different days.
The Recipe for Car Magnet Success
Once you've created and applied your car magnet(s) to your vehicle(s), there are a few things we suggest in order to get the most out of your marketing purchase.
How you operate your vehicle matters. If you cut people off, tail them on the highway, and generally act obnoxious on the road, that could be bad for business. Other drivers could have a negative reaction to your behavior. So try to be courteous on the road.

You'll want to also take proper care of your magnet. When cleaning your vehicle—either by hand or the car wash—make sure to remove it. This will help extend the life of your magnet, and at that time, clean it by hand to remove any dust and grime.

Consider the vehicle you attach the magnet to. It begins by having a clean vehicle, but if your vehicle is rundown or falling apart, it doesn't exactly promote your business as stable or successful. You'll also want to consider what other magnets or bumper stickers are on the automobile. Make sure they are for things you'd want your business to be associated with.

When your magnet is not in use, make sure to keep it flat and away from sunlight. This will help it last longer.

Be thoughtful in your design. We know it's tempting to want to cram every detail on it, but it can then result in the type being small and hard to read. Focus on the main points.
Car magnet signs are truly a great and inexpensive way to market your business, and we'd be happy to help you with the design that makes the most sense for your goals. Just click below to get a quote and get started!