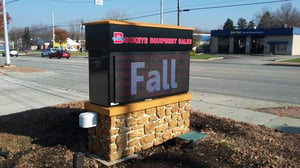 Regardless of whether you're a bank, museum, school, church, car dealership, restaurant, or occupy space in a strip mall, it's important you have a way to directly (and physically) communicate with your public. While Internet and social media channels have taken us a long way, there's no substitution for broadcasting a carefully crafted message to those within proximity of your space.
Thankfully, gone are the days of mounting a ladder and braving the ice and snow to change out the fragile plastic letters on your marquee sign. LED signs- or electronic messaging centers- act as a visual interface bridging businesses and the public. These highly durable systems are built to last, making them perfect for inclement weather. Given that most outdoor signs are subject to their fair share of wet, humid or harsh conditions, LED message boards in Cleveland, Ohio have exploded over the past few years.
Types of LED Message Boards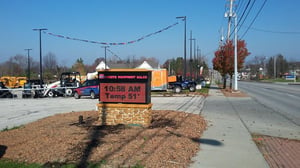 Custom LED Signs – Passersby won't be able to look away after you begin projecting animations and moveable images on your signs. With vibrant colors and cutting edge technology, no matter if your motive is to promote, educate or inform, these signs are the way of the future. We can also help you design and customize your messages to really get the word out.
Color LED Signs – With an almost endless variety of size and color options at the highest quality, we'll help you deliver your messages with crystal clear resolution. Not only do color LED signs hold their own on sunny days, these message boards keep shinning long after the sun goes down.
Monochrome LED Signs – Have a longer message that can't be whittled down to one or two lines of text? Our monochrome LED signs pop with more than 4,000 shading levels that function together to create high-resolution detail.
Top Reasons to Invest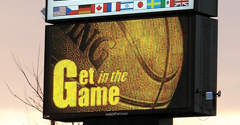 Your message shines even in the rain – Weather can change a lot in a 24 hour period. Where standard black lettering has a tendency to fade against the elements, perpetually bright LED signs shine through even the most treacherous of weather conditions.
Change your messages on a dime – Want to promote a last minute sale or alert parents to a sudden football practice cancellation? With our highly customizable LED signs and easy to use software, it's a cinch to change your messages multiple times a day.
Animation station – Typed messages won't do the trick? Why not consider crafting a video or graphic animation to help you properly convey your message! Anyone driving past or sitting at a red light is sure to notice a moving picture flashing outside their car window.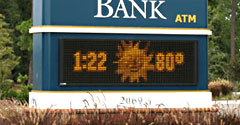 Durable as the day is long – With electronics, it's particularly important to prevent any moisture leakage during rainy or snowy seasons. Whether you're dealing with searing summer heat or frigid, subzero temps, our signs can master the elements.
Low energy usage – Are you afraid that employing an electronic board will result in a huge spike on your next energy bill? Rest assured that LED bulbs are well known for the trivial amounts of electricity required to power them.
If you are looking to buy LED message boards in Cleveland, Ohio look no further than Epic Signs & Graphics! We have diligently served our community for years and would love to help your business shine in with a custom electronic message board!