We typically talk about signage that helps drive business on the blog, so we decided to change things up a bit today. While there's no doubt that signs and graphics are an integral part of brand awareness, marketing and communication, signs can also serve to deter potential clients and customers.

Busy signs
Not only do potential customers stray away from signs they can't read, cluttered or busy signs are skipped over and businesses are bypassed. Less is more, so keep your sign and message clean and simple, and opt for an easy to read font -- while scrolling, handwritten-type fonts may be pleasing to you, customers will likely have a difficult time reading your sign as they quickly speed by in their car. We see this often with truck wraps.
Size matters
One of signage professionals' cardinal rules is that signs must be of sufficient size or height to be seen from the location in which it's placed. If a sign is too small, or the lettering too small or crammed together, you've wasted your money on signage. Keep it simple, make it large enough to be read easily, and make sure that your sign is placed high enough for optimal visibility (and away from any obstructions).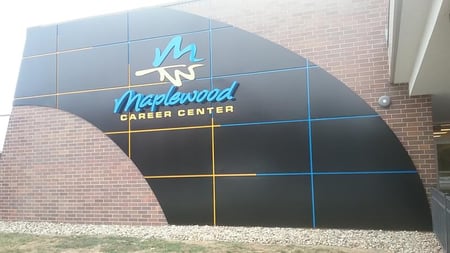 Misspelling
Let's consider that the Sign Research Foundation (SRF) reports that 34 percent of North American shoppers associate sign quality with store and product quality. If your signs look unprofessional, hastily put together, or worse -- misspelled -- what does that say about your business? Make the investment to work with a sign professional to ensure that your business signage has a clean look and is devoid of any embarrassing misspellings.
Illegible
Using a hard-to-read font is only the start to featuring signage your customers can't read. When you work with a sign professional, they're experts in proper letter proportion and spacing; we'll work with you to create signage that both fits your aesthetic preference and will be easily readable. And last, but not least, sign professionals and designers can work with you to make sure that your color preferences work for you, not against you.
Unkempt
Sign maintenance is of the utmost importance to attracting and retaining customers. If sign quality is equated with store and product quality, consider what your exterior sign is communicating with a lighted letter (or more) out. If your business features an illuminated sign, what's the point if a bulb is burnt out? Even worse, what is being communicated when signs -- either interior signs or exterior signs -- are grimy, covered in dirt or dust?
Not sure if your current business sign or fleet graphics is turning away customers? Contact us for an audit, to see how we can help your signage properly communicate your business to customers.