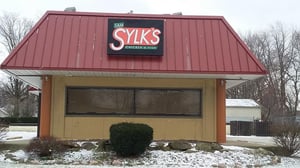 Need a cost effective way to promote your business? Do you want to make certain your customers can find your storefront? Or, do you want to stand out from the companies nearby? If you answered yes to any of these questions, then we recommend considering a lightbox cabinet sign. If you are unsure, please take a moment to check out the Epic Signs & Graphics' guide to lightbox cabinet signs for Cleveland below.
How Are They Fabricated?
Lightbox cabinet signs, also known as illuminated cabinets or electric sign cabinets, are made of high quality electric components and extruded aluminum. Powder coating and high quality painting can be added to cabinets to protect them from harsh environments. For the face, plastic and acrylic push through elements give the sign pop. Or, we can produce vacuum formed faces for added strength.
Available Types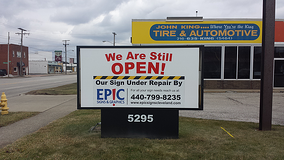 There is an array of different sign types to choose from. Six of the more popular varieties are
Single Sided – These are one of our most popular items. These cabinets are designed to be durable. Interior weatherproofing and ultraviolet resistant coating make these signs impervious to the weather. We can illuminate these signs with many different methods and mount them however you would like.
Double Sided – As the name suggests, these signs are readable from two directions. They are inexpensive and used by many businesses. You can protect your sign from vandalism and increase visibility by having your double sided cabinet sign installed onto a pylon or pole. They can also be installed onto an existing foundation or integrated into existing stonework.
Hinged Framed – You can advertise your message beneath a clear, protected hinged face with these signs. Hinged cabinet signs can be installed outdoors and in. Plus, they are built to accommodate anything from marquee message boards to posters. You are also safeguarded against vandalism, since the face includes a lock and key.
Custom Cabinet Signs – Cabinet signs can be built to be just about any shape. Wherever your vision takes you, whether it is smooth curves, round edges, or dramatic angles, it can be incorporated into a cabinet sign. From design to fabrication and installation, Epic Signs & Graphics will handle the process every step of the way while keeping you in the loop.
LED Illuminated Lightboxes – There is a long list of benefits to going with LED illumination. LED lights are so energy efficient that they will save you as much as 30 percent on your energy bills. They have a reduced chance of safety and fire hazards. Plus, they remain bright during the cold Cleveland winters. LEDs are ideal for signs on top of pylons, since they last longer, and you will not have to change them more than once a decade or so.
Wide Fab Cabinet Signs – When square tubes or large pylons must pass through a cabinet sign without producing shadows, wide fab cabinet signs are the perfect solution. Like the other cabinets, they can use any type of internal lighting and can be built to be any shape.
To find out specifically what Epic Signs & Graphics can do for your enterprise, contact us for a free consultation!