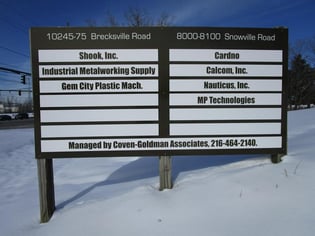 Have you ever found yourself driving in circles, desperate to find a shop you've never been to before, then at just the right time a sign comes into view to point you in the right direction? How would you have reacted if you hadn't been able to see your destination on the sign? Would you have turned around and gone home, or perhaps popped into a different shop than you were originally intending? Either scenario could be crippling for a business owner looking to reel in foot traffic.
So one can see the importance of ensuring your business is able to stand out within busy commercial locations. Storefront signs are essential, visible and readable additions to make sure patrons can find your shop regardless of the time of the day.
As the leader in lightbox cabinet directory signs for Cleveland, Ohio strip malls, Epic Signs & Graphics are experts at crafting and installing customizable signage in highly conspicuous areas, helping you announce your presence to existing and potential customers base both day and night.
Snowville Plaza Lightbox Cabinet Directory Sign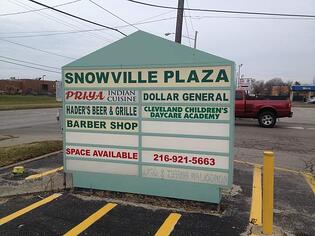 Once Paran Management Company decided to update their current lighted directory sign, they aptly called our commerical sign company to complete the upgrade.
In the months that have followed, they've fully realized their primary goal of attracting new tenants, and are overwhelmingly satisfied with the experience.
Outdoor Illuminated Sign Cabinets
Be it illuminated sign cabinets, light box signs, or lighted window signs, we have the ability to help you capture the attention of passersby and lock in sales.
With their high quality and customizable nature, light box signs ensure your store radiates an undeniable appeal to your customers, even long after the sun has set. Their premium quality materials including anodized silver and three millimeter thick acrylic panels allow you to rest assured our signs have the durability to outlast even the harshest Ohio winters.
How Can Street Directory Signs Help My Business?
Is your traffic slower than in years past? Perhaps the primary culprit of your struggling business is the result of insufficient visibility. In a busy shopping center like Snowville, the competition for Ohio customers can be steep. This goes double for stores and shops located within a strip mall. When you're in direct competition with other similar enterprises, standing out and making yourself known is an absolute must.
The equation is simple. Increase your visibility, increase your sales.
Other Sign Services
At Epic Signs & Graphics we are in the business of signs in all varieties. With our comprehensive range of services we are dedicated to our clients in the Cleveland, Ohio area. In addition to our commitment to designing and manufacturing high quality and durable light box signs, we also pride ourselves on our high customer satisfaction ratings and after-sales service.
We show just as much interest and concern for our customers even after their light box signs have been installed. Since we guarantee our premium materials and can withstand the elements, we are quick to offer repair and maintenance services in the unlikely event anything should go awry.
Don't run the risk of missing out on potential businesses and call us today to get started on your illuminated sign cabinets, light box sign, and lighted window signs!