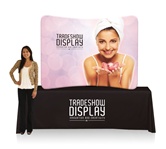 When you are gearing up for trade show season, Epic Signs & Graphics is your one-stop sign company offering all the tools you need for your booth to make an impact. The difference between going unnoticed and really attracting a crowd lies in having a great mix of displays. Whether it is special events, invitational fairs, holiday shows, or industry events, we offer the best quality range of Cleveland trade show displays to service providers, commercial building owners, and retailers.
Who Needs Trade Show Displays?
By displaying your services or products with eye catching displays, you can boost business no matter what sector or industry you are in. By displaying new product options, highlighting available services, and showcasing your expertise, skilled tradesmen, including electricians, contractors, and plumbers, can benefit tremendously from any of our popular display options.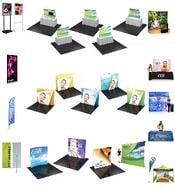 Launch new items or promote the popular products your retail store offers by choosing vibrant trade show banners for Cleveland expos and events. Or, school can boost enrollment by marketing to older siblings and parents at trade shows. For example, if your school gives children a competitive edge with your science or English programs, you may choose to showcase that aspect to attract attention.
Any profession can boost their notability by adding the appropriate flair to trade show graphics. To demonstrate why your services are indispensable in the modern business world, professional service providers, such as accountants, notaries, and attorneys, need to use text and imagery to promote the benefits of your services.
How to Get the Crowd's Attention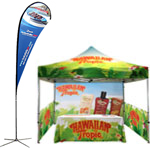 To really educate trade show attendees, there are a wide variety of display options that show marked benefits when used in tandem. Pop-ups are one of the most popular displays at today's trade shows. These work well as full pop-up tents with side or front walls or as a backgrounds for display tables. You can draw attendees to your booth with properly spaced banner stands. They draw attention to the services and products you have to offer.
For your demonstration areas and display tables, a standalone panel system may be the simple solution to your backdrop needs. Include your branding coloring scheme and your company logo on a table cover. We can help make sure that your branding remains consistent with our wide selection of colors and fonts. Set the stage for brand reinforcement with floor graphics welcoming trade show attendees. This will also help you utilize your limited space to the fullest.
When only perfection will do, you need to contact Epic Signs & Graphics as you prepare for your trade show. We can make adjustments to the sizes of your various displays to make the best use of your space, offer you advice on what the best display ensembles are for your particular event, and we can help you figure out the logistics of how to erect your booth.
Give us a call today to find out more about what we can do for you; or click below for a free quote!