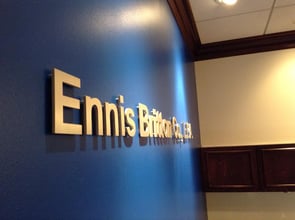 A crucial part of your marketing and branding efforts is presenting your customers with a reception area that ensures your company stands out from the competition. You simply cannot afford to have a bland looking reception area. To make certain their lobby projects the right kind of image, many businesses hire interior decorators. Of course, Epic Signs & Graphics can also help with either metal, acrylic or vinyl lobby signs for Cleveland business owners and property managers.
Project Longevity and Durability with Metal Lobby Signs
Metal wall signs for Cleveland are an ideal option if you want customers to know that your company is here to stay. When your lobby sign is heavy on details, etched metal is a great choice. The etching process is best for signs that include a bit more than just the name of your business or highly intricate logo depictions.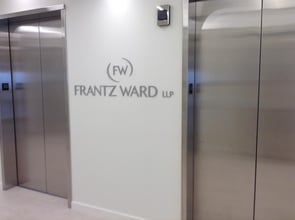 Etched metal delivers a great look if you include a drawing or photograph. Typically, these signs come in brass, stainless steel, bronze, copper, or aluminum. With baked enamel, it is even possible to add color. Plus, the signs can vary in thickness from a sixteenth of an inch to a quarter inch.
Cast metal letters may be better for your purposes if it will be lighter on text. This type of metal lobby sign gives you many attractive border design options and usually uses brass, aluminum, or bronze. The elegant look of your message can be accentuated with a background texture, such as a leatherette backdrop. The backdrop is recessed while the information you want people to see is displayed.
The Benefits of Choosing Vinyl Graphics
You may want to go with a vinyl graphic lobby sign if you want to entirely get rid of the look of a wall attachment held in place by brackets or hooks. This is quickly catching on with many different office signs. Cleveland businesses are increasingly commissioning us for wall murals to display in their lobby area.
Rather than having their lobby sign stand out, more companies want us to cleverly work it into the interior décor. This is not a problem when we do wall graphics or murals. For example, if we were to create a cityscape mural for an architecture firm, we could display the business information in the foreground on a structure holding a sign marker. With this option, the possibilities are endless.
If you decide you want to have the reception sign done as a decal or if you do not want a mural, we will match the border colors to create a visually appealing transition to the signage hues from the wall color. The final sign will help you stand out from the crowd while being very attractive.
If you like both metal and vinyl, they can work together for dramatic effects. One common type of reception area sign is cut vinyl mounted on metal. On a long-lasting material, you get any color you want and precise cut vinyl graphics.
Whatever your lobby signage needs may be, Epic Signs & Graphics can help you out. Contact us today for a free consultation!