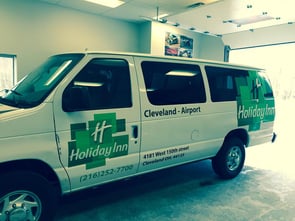 Do you own or manage an airport courtesy shuttle business? If so, that doesn't mean your vehicles need to be all one color or void of advertising messages. Why not promote your business and reach consumers with well-designed airport courtesy shuttle vehicle wraps and graphics? Cleveland and Northeast, Ohio shuttle service companies will benefit from full body wraps and graphics, partial wraps or vehicle vinyl lettering. Epic Signs & Graphics can help you stand out each time you drive to and from Cleveland Hopkins International Airport.
It is all too common to see shuttles of all types at the Cleveland airport. To deliver simple-to-remember messages about your company, you really need vehicle vinyl lettering and decals that fit the contours of your shuttle, whether it is a sedan, van, or other mode of transportation. We have worked with a number of companies interested in standing out from the competition to produce vinyl wrapping products that really catch your attention.
With our vehicle wraps, we provide vibrant backgrounds that contrast well with company information, such as your company's logo, phone number, address, and website. Our graphic designers have decades of experience in the industry and can work with you to make sure your shuttle provides consistent branding.
New Customers Will Be Able to Reach You Easily
Though we generally recommend keeping it simple and crisp, we can embed information about your business. Two popular features many of our customers like to add are their company slogan and a QR code. QR stands for "quick response" codes. These are black and white pixelated squares that can be scanned from a distance with a smartphone taking passersby directly to your website. Other must-have elements include your telephone number and website address and of course graphics of your mascot or logo.
The vehicle wrap industry has really come a long way in the last decade. Even just five years ago, the materials and designs were drastically inferior. 3M, Avery Dennison and Oracal vinyl films are used for today's wraps and created using heavy-duty, high-quality wide format printers. Without peeling or fading, the vinyl will last up to five years thanks to the material strength and coloration properties.
Why Your Courtesy Shuttle Needs a Wrap
There are many different reasons why you might get decals, vinyl lettering, or full vehicle wraps and graphics for your courtesy car or van. Some of these include:
Reach the precise people you want to market to – The fact that you provide a courtesy shuttle to the airport in the first place suggests that you are looking to advertise to those who travel a fair amount. Where do you find people who travel? The airport! Advertising using conventional means will never be as effective in reaching your target audience as having a full vehicle wrap advertisement.
Reinforce brand recognition – The more people see your branding, the likelier they are to remember you. And, when they remember you, they will call you when they need the services you provide.
Inexpensive advertising – One of the greatest benefits of turning your vehicle into a billboard on wheels is that you can advertise your business 24 hours a day, seven days a week.
Contact Epic Signs & Graphics today to find out what solutions we can provide for you. We design, print and install coutesy shuttle wraps in our Cleveland facility. Make your vans, cars or sedans shine and get noticed!
Image credits via Flickr by
justinbaeder
/
AtomicTaco