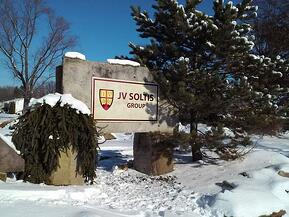 The JV Soltis Group is a one-of-a-kind business resource for entrepreneurs in Ohio and across the country. Founded in 2001 by Jim Soltis, the company puts a twist on helping the small business owner. With over 25,000 companies aided to date, the JV Soltis Group finds solutions for entrepreneurs who may not otherwise have access to them. Partnering with expert vendors, they are able to offer everything from credit card processing to payroll to business administration tools to aid companies that helped make America what it is today.
Vision, Mission, Partners and Vendors
The vision and mission behind this organization are strong. Their vision was to revolutionize how small businesses can be managed and operated at optimal levels. They are seeing that vision come to fruition via their mission; to provide small to medium size business with affordable and high-value solutions to help them:
Increase revenue
Brand within their target market
Decrease costs
Reduce risk
Improve customer satisfaction
All of these are possible through their connected partners and vendors that offer the most cost-effective and sound business tools to help entrepreneurs grow their companies, not lose them to ineffective management, tools, poor risk management skills and unwise marketing efforts.
Helping Ohio Business Owners
Although the JV Soltis Group has helped companies all over the U.S., they are headquartered in Ohio. Many of their ideals were initially set by the CEO's great grandparents who were Slovakian immigrants. It is these immigrants who built America and is part of what makes the JV Soltis Group so attractive to both successful and struggling companies.
No longer do business owners have to worry about the corporate giants because the Soltis extended family of partners and vendors offer each client the feeling they have an entire Fortune 500 company behind them.
This organization also believes business branding is a must-do essential. Hence, they contacted Epic Signs & Graphics to help them create a new sandstone monument sign for their headquarters with graphics that are consistent with all of their other branding materials.
A Sign That Brands
When the company moved to their current location 11925 Avon-Beldon Rd., the property had an existing sandstone monument sign from the prior owner. Epic Signs & Graphics was able to use the elements of the existing sign and turn it into a high-impact visual.
The corporate logo and company name was embedded on the printed vinyl and then mounted on the bimetal substrate. Stud mounts were used to install the sign and cover the old images of the existing sign. And, because branding with monument signs was the goal, the process was done on both sides of the sandstone monument sign. The result is now a stand-out noticeable marker and the owner was especially happy the sign was complete in just two weeks and within budget.
Do you have an organization that would benefit from a monument sign? A building complex? A neighborhood community? A strip mall or shopping center? We make it easy to get a quote; simply click on the button below.
Now let's take a look at the creation and installation of this monument sign for the JV Soltis Group...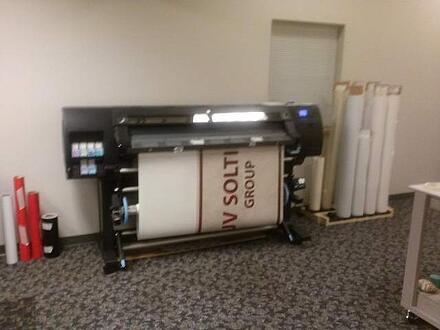 The wide format printing process
The original monument sign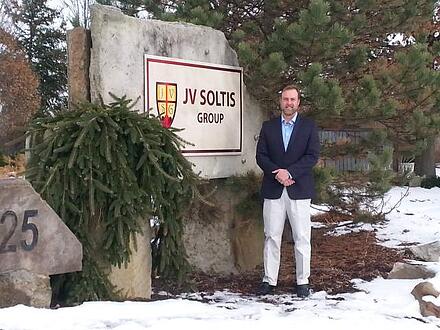 The completed sandstone monument sign