New construction projects around North East Ohio call for a variety of signs, including safety signs, site signs, directional signs, monument signs, and more. We can help you finalize your projects and our services include help with permitting, fabrication and design. Make your construction signs for Cleveland Ohio stand out and above all, be consistent for brand building. Let's jump into the world of signs for construction projects!
What Signs Do You Need?

Some of the construction signage products Epic Signs & Graphics recommends inlcude:
Monument Signs
To identify the name of some of the tenants and the building, new buildings need a mo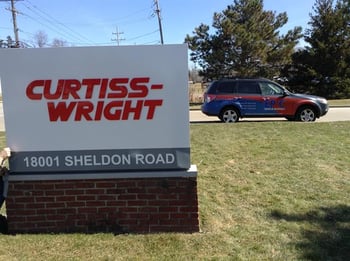 nument sign. The colors, materials, and designs for these signs are seemingly endless, whether it is an illuminated cabinet with interchangeable sign faces, simple sandblasted wood signs, or a versatile concrete monument sign. Our experts will help you determine the best monument sign based on city code, maximizing the utility and purpose of the sign, and working with the building's aesthetics. The tone of how a building is received and how it is first identified by visitors is heavily influenced by the monument sign. Making a strong first impression is always important.
Parking and Regulatory
Compliance with government regulations for sign standards is becoming more and more important. We can help you with your handicap sign, wayfinding sign, and parking sign requirements.
Building Signs
Company identification signs, directional signs, and address numbers are among the many illuminated and non-illuminated signs we fabricate, design, install, and permit. We provide Cleveland construction signs for any project.
Interior Signs
As your blue prints call for them, we can install and fabricate suite signs, ADA signage, directional signs, and lobby signs. We seek to preserve the vision of the building owner and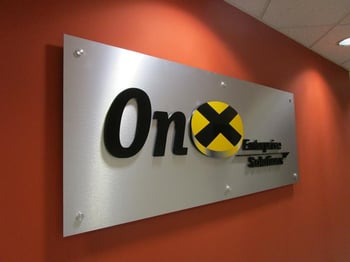 architect, suggest economical ways to meet signage needs, and we collaborate closely with the architect. We are on the cutting edge of new sign ideas.
Safety and Site Signs
All contractors want to have their company's information prominently displayed on the job site. Signs are a great source of advertising, and they help you get your name out there whether you use a banner or a wooden site sign. Construction sites also need an array of directional and safety signs posted for all visitors and subs to comply with.
ADA Compliant Signs
Up to date ADA signage is needed for all new buildings. To help you pass the inspections, we are here to provide you with the necessary signs.
Sign Importance

Placing signs showing a rendition of what a finished building may look like is important for commercial venues that are undergoing additions or partial renovations. Construction and commercial sites can realize a vast array of benefits with on-site construction signs for Northeast Ohio.
It may seem odd to place a sign on a bare plot of land, but it is never too early to announce to everyone in the area that a business is committed to developing the land for its commercial endeavor in the near future. Before you even break ground, you will have interest in your building.
In the case of model home communities, directional and wayfinding signs can help potential buyers locate your sales office. Fill those homes before they are even completed.
Tackle your Cleveland construction signs needs using experts knowledgeable of your utilitarian, regulatory, and self-promotion needs.