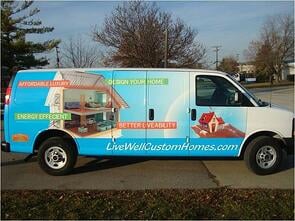 We get calls frequently from clients asking us if their business auto insurance will cover their vehicle wraps in Cleveland if they are damaged in an accident. Epic Signs and Graphics also receives calls asking us we can repair vehicle wraps. The answer to these questions is a resounding yes, but there are some initial tasks to complete prior to filing a claim.
Tell Your Insurance Carrier About Vehicle Wrap Additions
When your business vehicles are wrapped—whether it's one, two or a fleet of vehicles—it's essential to let your insurance carrier know about these additions. Just as you would add other aftermarket tools like radio systems or utility trailers, if the insurance company doesn't know about them and an accident occurs, they may not be covered.
Once we add vehicle wraps to your Cleveland trucks SUVs, cars, minivans or work trailers, call your insurance broker immediately and let them know and be sure to fax them our invoice. This way they'll have detailed information such as date of install, materials used and pricing in the event your auto wraps are damaged in an accident.
The Use of Your Wraps
In addition to providing the vehicle wraps cost, you may also want to inform them on how long you plan on keeping the wraps on your vehicles. Most last up to five years but if you are getting promotional wraps that you will use for a shorter period, say one or two years, they need to receive that information as well.
For brokers or agents that aren't familiar with car wraps, be sure to tell them they are 100 percent removable and do help to protect the original manufacturer paint.
Don't Forget Other Add-Ons!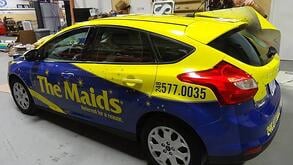 Along with reporting your new vehicle wraps, don't forget to tell your insurance broker to add all aftermarket additions you've made to your company fleet. Some examples include:
Custom audio systems or work radios
Updated interior items such as upholstery changes
Modifications to your engine or transmission
Fuel saver add-ons
Anti-theft devices
The fuel saver add-ons or modifications and anti-theft devices may even qualify for a premium discount, so be sure to ask your broker.
Documentation!
Here at Epic Signs and Graphics, we enjoy taking photos of all the vehicle wraps and graphics we install in Cleveland but we suggest taking your own photos and keeping them with your invoice detail.
Vehicle Wrap Repairs
If any of your company vehicles are in an unforeseen accident and you need repairs, once again, our commercial sign company can help. For wraps we've designed, we save those designs digitally so we can easily pull them up using our vehicle wraps software. You may only need a certain area replaced like on the bumper or hood and in cases like these, we'll only print the portions of the wraps you need.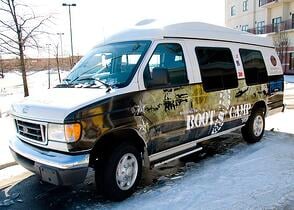 If your vehicles are in a collision repair center, call us and let us know when the vehicle will be ready for wrapping. Or, we are happy to connect with the repair center on timelines and work with them on reinstallation.
The biggest benefit of calling us if you need your vehicle wraps repaired is if we designed and installed them, our saved design ensures exact color matching. We're also happy to work with new clients. Our technology is so advanced, color-matching is never a problem and our designers are experienced in creating stunning graphics for all makes and models—and we have access to the very latest manufacturer vehicle templates.
So yes, your company vehicle wraps may be covered under your business insurance as long as you inform them about the new additions. Be sure to ask your agent because all policies are not the same. And, as far as repairs go, Epic Signs and Graphics will make the process easy for you using our efficient project management skills!