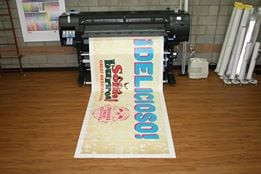 Large format digital printing has revolutionized the sign industry. With this type of printing, sign companies can include great detail in all types of signs printed on many different materials. The wide format printers and equipment at Epic Signs & Graphics are designed to handle rigid, flexible, and many other materials to produce signs that look exactly the way you want them to look. In this entry, we will explore how versatile wide format printing can be for supporting the sign industry.
Digital Printing on Rigid Materials
On pieces up to eight feet square and three inches thick, Epic Signs & Graphics is able to print directly on rigid materials. We can cut the material into any shape imaginable to really bring it to life. Plus, the signs will have magnificent quality and color. Some of the materials we regularly print on are:
PVC – Heavy duty and medium weight, this is simple to transport and install.
Corrugated cardboard and card stock – Great for making boxes, posters for indoor use, and point of purchase displays.
Foam board – Weight bearing, flat, very rigid, and durable. Great for indoor use, such as trade shows.
Corrugated plastic – This material is a substrate great for indoor and outdoor use when you need something that is affordable, robust, and light.
Aluminum – Primarily used for outdoor use, aluminum is quite lightweight.
Composite materials and wood – Ideal for outdoor uses thanks to their versatility and ruggedness.
Acrylic – A plastic substrate that is ideal for achieving a high tech, sophisticated look.
Styrene – Heavy duty, lightweight material great for indoor use or short term outdoor use.
Digital Printing on Flexible Materials
Up to sixteen feet wide, we can print on any flexible and seamless material imaginable. We are also able to add a clear coat to the sign to provide extra abrasion protection, longer life, and more vibrancy to the color. The following materials are particularly popular around our shop:
Double-sided – A black opaque material is sandwiched between two printable surfaces. This makes it so you do not see the printing of one side on the other.
Backlit prints – These use materials that are strong enough for permanent outdoor use while still allowing light through.
Banners – Typically made from twelve ounce material, these can be used indoors using matte or outdoors on gloss.
Magnets – Once the magnets have been printed on directly in full color, we can cut them into any shape for you.
Pressure sensitive vinyl – Ideal for when you need to adhere your graphics to a surface, such as a sign, window, vehicle, menu, wall, or floor.
Mesh – Reduces the weight of large banners while also reducing wind resistance.
As you can see, there are a vast array of large format printing applications. These are just some of the solutions we can provide for your business. To learn more, you can contact us for a free consultation. We can help your business get seen and help build your brand awareness with vibrant, eye catching signs in every shape and color.