Vehicle magnet signs are an affordable way to inform your target market about your business. Epic Signs & Graphics is able to make everything from two-color vehicle magnets to full color custom designs. Often, business owners and entrepreneurs look for an affordable way to advertise their business. They may be just starting out or are a product distributor and use their personal vehicle for deliveries and promotions. Established businesses with many vehicles or a fleet also find these signs useful.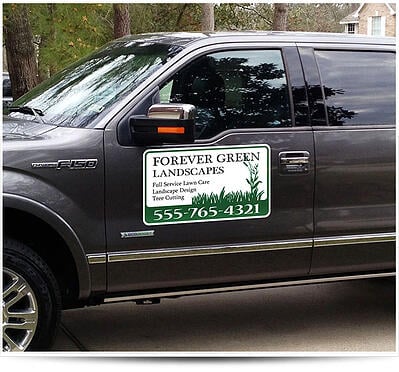 Business that benefit most from vehicle magnet signs include:
Realtors and real estate agents who utilize personal cars for home tours.

To advertise a sponsorship of a community nonprofit, little league or school.

To promote the products you sell if you are a distributor or local sales representative.

Advertise a year-end or clearance sale as you drive to and from your retail store.

Quick advertising for dedicated auto dealership parts delivery trucks or courtesy shuttles.

Contractors of all kinds including electricians, plumbers, HVAC contractors and general contractors.

Residential cleaning and commercial janitorial companies.

Crosstown delivery vehicles.

Limousine companies.

Home service providers like traveling nurses or at-home senior caregivers.

And more.
Signs That Shine Vehicle magnetic signs can be made in a variety of sizes:
9-inches x 12-inches

10-inches x 20-inches

12-inches x 24-inches

18-inches x 24-inches

24-inches x 24-inches

24-inches x 36-inches

Customized sizes
Our vehicle magnets are UV coated to gain a high-gloss appearance that resists fading. Digital printing ensures colors are clear, vibrant and bright. Above all, like some other sign companies you'll find online, we don't require a minimum order making our signs more affordable.
Vehicle magnet signs are an effective way to turn an entire fleet of vehicles into a recognizable brand. Once seen on the streets and highways of your target market area, these visuals strengthen brand identity.
They are also an effective way to reel in new customers who may need your product or service. If you're a delivery company, a professional looking magnetic vehicle sign revealing your company name, telephone number, website address and even a graphic makes it easy for prospective clients to call your business first. When parked in front of your retail establishment or office, they are visible on streets and in parking lots—so they also advertise 24/7 even when stationary.

Increase Customer Base
If you're looking for an affordable way to increase your customer base and are looking for an advertising method that is inexpensive, yet professional, magnetic signs are the perfect solution. If you utilize any sort of CRM software or customer tracking methods, it's easy to calculate your ROI on magnetic vehicle signs by simply asking new consumers how they found your company.

Free quotes are always available at Epic Signs & Graphics, and we provide consultations whether they are through email or a telephone call. We will leave you with full knowledge of the best way to order, utilize and maintain your magnetic signs.

Our service areas in Cuyahoga County include Cleveland, Parma, Parma Heights, Olmsted Falls, Middleburg Heights, Berea, Strongsville, Brookpark, Brooklyn, Old Brooklyn, Seven Hills, Independence, Lakewood, Fairview, Rocky River, and Bay Village, in North East Ohio.