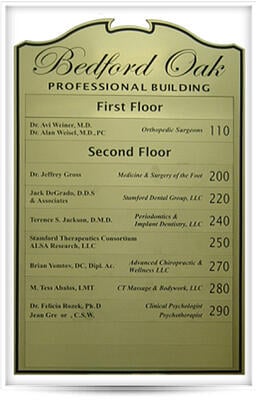 Introduce the sophistication and durability of metal plaques to your commercial or private property. Whether you intend to add some outdoor signage or plan on making the inside of your property pop, metal is the kind of material that delivers without fail. Epic Signs & Graphics has the metal plaques Cleveland business owners, professional organizations and nonprofits need!
Material Choices
Stainless steel offers supreme durability with the silver color that you have come to love. Opt for a brushed and polished finish. Since this material is easy to take care of, you have the option of using it for interior and exterior signs. In contrast, plated steel is useful for interior signs only. It may be black and feature silver or gold typeface for a striking contrast.
Brass is the type of metal that bespeaks sophistication. When you plan on placing these metal plaques outside, be sure to have our friendly graphic design artists add a lacquer for the protection of the material. Interior signs are easy to polish with material-specific cleaners. Other popular material choices are bronze and copper. While the former has a yellowish appearance, the latter features an attractive reddish hue.
Popular Outdoor Uses
Stakes are commonly used in park and nursery settings. They alert passersby to the names of flora and fauna. Even in the business setting, these stakes identify the company that takes pride in its landscaping and eco-friendly approach to using native plants around the building. Use them to expand on your commitment to environmental conservation.
When a business is confident in its longevity, it may be a good idea to express this confidence by choosing a metal address plaque. These plaques are made to outlast the lease on the building. Photo plaques are striking signage option for the business that wants to offer a bit of information about founders and important corporate personalities. Incorporate these kinds of signs in a landscape or mount them on the building itself.
Common Indoor Uses
Metal plaques are frequently seen indoors. They augment the interior decor of an office or store. For example, the coveted employee of the year award is usually mounted on coated walnut or bamboo. It features a sublimated image that displays the company's name and logo. In contrast, employee of the month awards generally merit a plate on a perpetual plaque. Engraved on the plate are the names of the chosen employee and the date of presentation. Depending on the size of the plaque, there may be enough plates for a 12-month period or even longer.
By the way, interior plaques also come with photo options. Some offer a ready-made frame that allows you to simply slide in your picture. Some companies have also decided to use metal plaques for directional signs. This is usually the case when the interior decor is heavy on stainless steel or – conversely – relies on dark wood. It is interesting to note that metal plaques add strikingly beautiful accessory options for either design choice.
Keeping the Metal Plaques Clean
Cleaning metal plaques is easy. There are large numbers of home-made recipes that use salt, lemon wedges and baking soda as base materials. Others call for little more than mild dish soap and lukewarm water. Of course, the easiest cleaning options point to the material-specific cleansers that are currently on the market.
At Epic Signs & Graphics, we understand that you want to differentiate yourself from your competition with the types of signs that you put into your business. If you are a homeowner, we recognize that this type of signage identifies you as the kind of property owner who appreciates the finer things in life. In short, metal plaques and signs are distinctive in material choice and exquisite in graphic execution. Entrust us with your design needs today to create an appearance that is flawless.