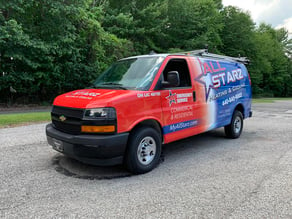 All too often small businesses in the Cleveland area pass up the opportunity to advertise their services using their greatest asset: their fleet of delivery vehicles. Many of these businesses may have their name on the truck and maybe a phone number but rarely do they have something that really commands attention. This is where the services of Epic Signs & Graphics come in handy.
Why Advertise with Vehicle Wraps?
Your company work trucks are on the road all day. When you invest in a car wrap with vibrant graphics, you have instant advertising that is directed toward your target demographic. A manufacturer of print vinyl that is often used for wraps, 3M, published a report in which they demonstrated that vehicle wraps far outpace traditional forms of advertising, like radio, television, and newspaper.
3M found it would cost $130,000 in advertising to equal the amount of exposure you get from one vehicle wrap. Best of all, you are reaching exactly who you want, whereas with those other forms of advertising, you will likely waste money marketing to people outside of your service area.
Types of Wraps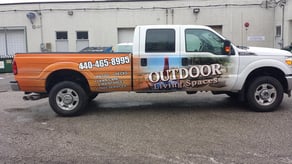 With wraps you can apply various amounts of material on vehicles that will combine the best budget with the simplest message so you maximize your ad dollars.
Full Vehicle Wraps – Just as the name implies, the entire vehicle is wrapped except the roof. These are by far the most popular and the most attention grabbing. Usually, for less than the cost of getting a paint job, you can completely cover vehicles of any size with a wrap.
Partial Vehicle Wraps – Many people are under the assumption that all vehicle wraps must completely cover the car. This is not true! Like in the above example, partial vehicle wraps can be eye catching and helps save on a budget.
Vinyl vehicle lettering – This is generally the most affordable option. It works great for getting your message out there or for advertising your website.
Food Trucks Can Also Benefit from Vehicle Wraps
Food trucks are becoming increasingly popular throughout Cleveland and they benefit from graphics because they depend so heavily upon being recognizable. Whether your food truck is in one location and more stationary or it is always changing spots, you can benefit from printed and die cut graphics.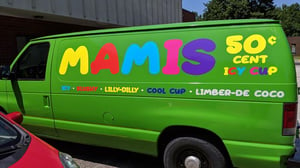 The perfect time for attracting new customers is when your food truck is in transit. With sharp graphics displaying your food options, you can pique fellow drivers' interest. And, with a large QR code on the side of your truck, people can simply scan your graphic with a smartphone and see where you will be next.
There are essentially no limits to the vehicle wraps the design team at Epic Signs & Graphics can create for you. With our wide format printers and state of the art software, we can turn your vision into a reality. Find out for yourself by giving us a call or dropping us an email today.
Image credits: James Brains / sashafatcat / Phillip Pessar