New signage is a must on the outside and inside of your building for an array of reasons. Plus, all of your signage needs to be updated whenever you rebrand, change your name, relocate, or open your doors for the first time. Timothy J. Norris & Associates (TJN&A) recognized this and contacted Epic Signs & Graphics for lobby signs for engineers in Olmsted, OH.
A Little About Timothy J. Norris & Associates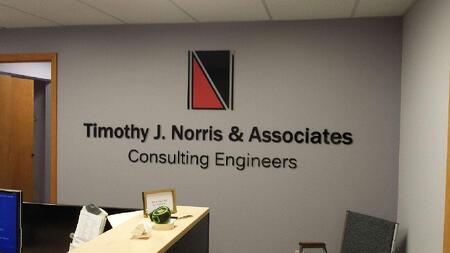 Located on Lorain Road in North Olmsted, Timothy J. Norris & Associates is a relatively new engineering firm. They do consulting work to help companies meet their construction and design needs. Their independent expertise in science, engineering, and related fields has aided developers, government agencies, construction firms, and industries.
When a business that provides such important services to other companies in the area came to us for signage, we were more than happy to help them out. TJN&A wanted lobby and suite signs for engineers in Olmsted OH. They wanted a way to make their office space in the Brendan Place building to look inviting to new clients.
Our goal was to keep the signage distinguished and professional while still making a memorable impression. We perfectly replicated TJN&A's logo on all of the signs to help with their branding. In the end, the client was impressed with what we were able to accomplish.
Fresh Signage will Benefit Any Enterprise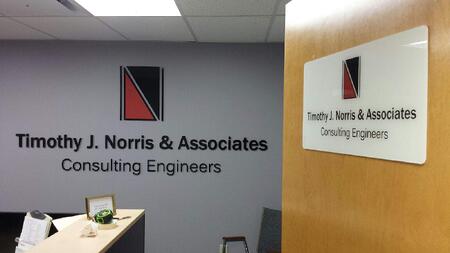 For a professional company located inside of a strip mall, large office building, or building complex, a surprising amount of your success relies upon you having identifiable lobby and suite signs. Both standard and custom signs are offered by Epic Signs & Graphics. Standard office signs may be your best choice if you are working with a shoestring budget. On the other hand, we can do the following if you are willing to spend a bit more:
Add Braille to any signs
Make signs with customized colors that match your promotional materials
Identify your business with attractive cabinet signs on the inside or outside of your building
Build your brand recognition by adding corporate logos to all of your signs
Make exact designs to fit your building's or complex's codes
Clearly mark your restroom areas with images and lettering
Many people are a bit anxious when they first arrive at a medical or dental office, law firm, CPA or accounting business, or even engineering firm. It can be stressful being examined or attending a meeting where one may feel he is out of his element. This experience becomes even worse when the appropriate signage is not there to let your clients know they have found the right place. Adequate signs will also help your customers arrive on time, which will help you avoid having to reschedule.
Epic Signs & Graphics has experience fabricating, installing, and creating signs for every aspect of a company. We pride ourselves on listening to and understanding the needs of our customers and always making them happy. Contact us today to learn how we can help you!