Nothing is worse for a business or professional company than having a location inside a large office or building complex with no identifiable suite or directory signage. Epic Signs & Graphics is able to help solve that problem with directory and suite signs so your clients will find you quickly.
Standard or Customized Signs
When one thinks of directory or suite signs, they may think of the standard plastic or metal plaque-type signs revealing the suite number or a bland office building directory. For many areas, these are encouraged by property management firms or building owners and we are able to comply with specified requirements for directory and suite signs. On the other hand, customization, is a way to brighten up your professional offices.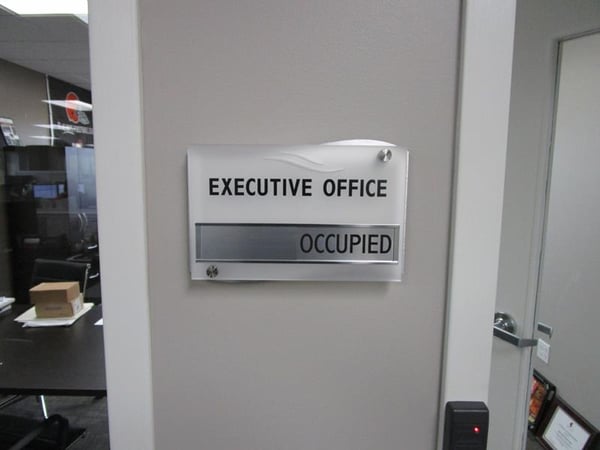 Some ways we can do this include:
Custom colorized signs to match your promotional materials

Include corporate logos on suite signs for brand building

Clearly mark your restroom areas with images and lettering

Lead clients to conference rooms or various departments

The ability to add Braille to any suite or directory signage

Create attractive looking cabinet signage for indoor or outdoor building directories

Across-the-board exact designs based on building or complex codes
Ways to Guide
For law firms, CPA or accounting businesses, and medical or dental offices, many clients are apprehensive upon arrival. A meeting, examination or procedure can be an uneasy experience for some people. Why make their arrival worse with closed doors that don't reveal the office number, conference room or suite?
The cost of suite and directory signage is well worth it to ease, invite and make your clients feel more comfortable. You may stick to a tight meeting or exam schedule but if your clients can't find your suite, you can't blame tardiness on them—it's something you need to employ. These signs also make your organization appear more professional and trustworthy.
Best Uses
Epic Signs & Graphics finds the best uses for directory and suite signs includes:
Large office complexes

Office buildings

Medical or dental complexes

Schools—from preschools to higher education

Hospitals and laboratories

Imaging and X-ray offices

Open-air professional centers

Apartment complexes and leasing offices

Community libraries and recreational centers

Gyms and co-ed physical fitness centers

Banquet halls

Convention centers

And more!
Design Process
Along with our expertise in working with property managers, building administrators, leasing offices and architects, our design process also includes finding the best materials, colors and shapes for your suite and directional signage.
In Cuyahoga County, Ohio we have designed and installed many of these signs in Cleveland, Parma, Parma Heights, Olmsted Falls, Middleburg Heights, Berea, Strongsville, Brookpark, Brooklyn, Old Brooklyn, Seven Hills, Independence, Lakewood, Fairview, Rocky River, and Bay Village.
Don't make it harder for clients—especially those who are disabled or anxious about a meeting or procedure to find your establishment. Ask us about our suite and directional signs.