For both the exterior and the interior of a professional building, dimensional letters are an ideal signage alternative. With little more than the makeup of the letter you choose, you have the opportunity to shape your building's feel and look thanks to the vast array of design options and materials available with dimensional letters.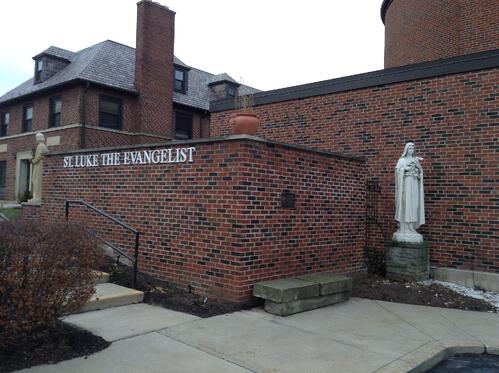 St. Luke the Evangelist realized this, so they contacted Epic Signs & Graphics for exterior dimensional letters for churches in Northeast OH.
Why Our Client Chose a Dimensional Letter Sign

Located on Bunts Road in Lakewood, the Church of St. Luke the Evangelist is a faith community that seeks to grow together by celebrating the presence of Christ in the Word, in one another, and in the Eucharist. Members of the church serve all of the people of the area through service, prayer, hospitality, and education.
When an organization that is so committed to helping those in need in the community came to us for signage, we jumped into action. St. Luke knew exactly what they wanted: exterior dimensional letter signs. Northeast OH buildings benefit from this type of signage due to its affordability and durability. We went with plastic formed letters from Gemini, a world renowned signage material manufacturer. We mounted the letters flush with studs drilled into the brick. The results were another beautiful sign and another satisfied client.
Sign Options
Dimensional letters are an inexpensive option because you are able to promote your business or organization without any custom work. The toughest part is choosing what material you want. Here are some of the more popular alternatives:
Cast Metal – This is your best option when you want to exude time tested professionalism, confidence that you will be in business for the long haul, and durability. For decades, these letters will last inside or out.
Plastic – For the creation of dimensional letters, formed plastic is a great choice. Plus, plastic letters are available in a vast array of colors. Any building atmosphere can benefit from metallic shades, beautiful pastels, or bold reds. Use these letters for exterior or interior signage, since plastic is exceedingly rugged.
Cut Metal – Our experts create stunningly crisp flat metal letters using precision water jets or lasers. You can customize the dimensions of the signage you are creating, since cut metal comes in a range of thicknesses. We recommend thicker signs on the outside of your building and flatter signs indoors.
PVC – Letters can be created in a selection of thicknesses and heights with polyvinyl chloride (PVC) letters. PVC letters are another option that works great outside and in.
Acrylic or Metal Laminate – Durability is added to the letter by acrylic or metal laminate when used on foam or PVC. Plus, against the wall on which the letters are mounted, the laminate and foam combination creates a three dimensional look that really stands out. And, this effect serves to heighten the vibrancy of the colors on a multi-colored wall.
Are you ready to learn more about how dimensional letters can increase your marketing power? If so, contact Epic Signs & Graphics for a free consultation today!