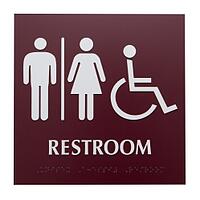 Since 1990, the Americans with Disabilities Act, or ADA as it's more commonly known, has been widely enforced in all public buildings. In fact, did you know that in Cuyahoga County, Ohio all ADA compliant signage is mandatory in both the interior and exterior of buildings as well as parking lots? And, that if a sign identifies a permanent room or space in your facility it must also comply with ADA standards? Furthermore, certain standards apply to exit signs and signs that direct or inform about useable spaces in the building including anything pertaining to the site's accessibility features.
Additionally, there are many regulatory signs which display codes and ordinances which could have additional requirements. However, when it comes to office signs, many folks are mistaken in their assumption that braille or raised lettering qualifies them as being code compliant.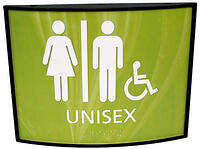 It's a given that you're required to have these and other types of signs present at your business, so why not let the king of North East Ohio sign companies, Epic Signs & Graphics, secure all your ADA signage needs and help you navigate the world of compliance?
ADA Compliance Signage
While requirements are specific to interior and exterior spaces, some of common types can include:
Particular size and/or character letter height
A universal font and typeface or symbol
Designated contrasting colors
Ordinances that require a non-glare finish
Mounting in specific locations.
In addition to the specifications listed above, we incorporate Grade II braille to office signs identifying your restrooms, exits, stairways, elevators and areas with handicap access.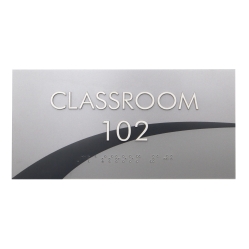 Beyond that, many inspectors require public buildings to properly display an emergency evacuation map (EVAC). This serves to safely direct people where to go in case of a building fire or other disaster.
Depending on local regulations, you may actually be required to display additional signage. The same is true of local codes based on where you are in the state of Ohio. Don't leave it to chance, our experts at Epic Signs & Graphics can help you with your property ADA compliance.
Regulatory Signs
We also specialize in informational signs that appear in public buildings and parking areas including:
No parking
No loitering
No skateboarding
Tow-away zone
Handicapped parking signs
Private property
No trespassing
Handicap van accessible
Customer parking only
Speed limit signs
Authorized parking
Resident Parking Only
Fire Access Lanes
And more.
Our past clients include local and state governments as well as general contractors and architects, all of whom turned to us to ensure they were equipped with the proper regulatory signage. But it's not only our expertise that draws them in.
Made Using Durable Materials
We use heavy-gauge aluminum which is not only durable enough to withstand Ohio's most severe weather, but can also be lacquered with reflective paints which make the signs visible at night. We can also customize them or create regulatory signage in screen-printed, digital graphics or vinyl materials.
However, it's not only during the permitting process that you'll need to take signage under serious consideration. In fact, many city inspectors and/or local ADA personnel make audits on an annual basis to ensure facilities stay up to code. Save yourself the headache of having to explain a potentially costly penalty fee to your higher ups and call us to secure all your regulatory signage needs.
We proudly serve our customers in Cleveland, Parma, Parma Heights, Olmsted Falls, Middleburg Heights, Berea, Strongsville, Brookpark, Brooklyn, Old Brooklyn, Seven Hills, Independence, Lakewood, Fairview, Rocky River, and Bay Village Ohio. Be it federal, state or local codes, our highly trained professionals know how to secure ADA compliance. Don't trust your building or exterior spaces to just anyone, the experts at Epic Signs & Graphics are standing by waiting to assist you!
Image credit via Flickr by
Cea.