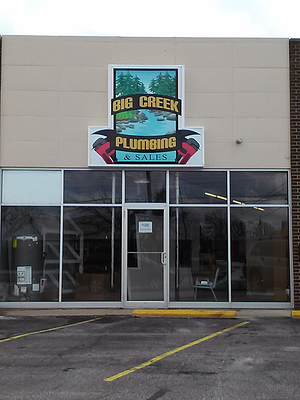 Signs do not last forever. Even the best materials start to fade over the years. This is especially true for signs that are outdoors where they are exposed to the elements. When a sign starts to look less than pristine, business owners have two options. They can let their signage continue to deteriorate. Or, they can get fresh, new, vibrant signs.
Big Creek Plumbing went with the latter, and called Epic Signs & Graphics to update the face of their illuminated sign cabinet.
Why Our Client Needed Cabinet Sign Repairs
Located on Pearl Road in Cleveland, Big Creek Plumbing & Sales has been in the business for nearly three decades. They have an experienced family owned and operated team that does everything from repairs and sales of minor installations to full scale remodels. They specialize in remodeling bathrooms and kitchens in both commercial and residential settings.
When a business that provides such valuable services to area homeowners and companies came to us for a signage update, we were more than happy to help. Big Creek already had an existing illuminated sign cabinet. However, the face was starting to look a bit shabby and outdated. Our designers created graphics to the client's specifications.
The design was printed using four colors directly on translucent vinyl and then laminated with UV shield to reduce potential fading form direct sunlight. We then adhered the vinyl to the custom cut eight by eight foot sheet of polycarbonate. Our experts then installed it perfectly. The result was another satisfied customer.
When Do You Need to Refurbish Your Cabinet Signs?
There are a variety of reasons why you may need to refurbish your cabinet sign in Northeast OH. Here are some of the most common:
Your Sign Is Falling Apart

The exterior signage on your storefront is often the first impression people get of your business. If you have a sign that is cracked, peeling, or otherwise in bad shape, it will tell consumers that you do not pay close attention to detail. They will be much less likely to seek out your products or services.
Your Company Has Rebranded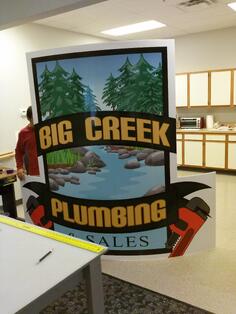 All of your business's marketing materials need to change when you update your company colors, logo, or name. This includes cabinet signs. Northeast OH business owners need to have consistent branding across all platforms, or else consumers will get confused. For example, if you have a different logo in your online ads from what you have on your exterior signage, customers may not recognize your physical location.
Your Signage Is Outdated
As with fashion, sign styles change over time. What was popular when you purchased your cabinet sign in the '80s looks out of place these days. If you choose not to update your sign, it will project to your potential customers that you do not keep up with the times. This could drive them to seek your competitor's services instead.
Do any of these examples describe your exterior signage? Do you need cabinet sign repairs in Northeast OH? If so, Epic Signs & Graphics has you covered. Contact us today for a free consultation and quote.