Some of the most versatile signs on the market right now are post and panel signs in Cleveland. These signs can be used outside or in, and they can remain stationary or portable. KingPin Computers knew how helpful computer business exterior signs for Cleveland can be, so they contacted Epic Signs & Graphics for their ideal signage.
Some Info on KingPin Computers
From their home base on State Road, KingPin Computers is an experienced and A+ certified IT consulting firm that specializes in virus removal, computer repair, surveillance systems, managed IT, and more. They offer the best IT services in the region at affordable prices. Their mission is to ensure their clients' fleets of laptops and PCs are running efficiently and properly as quickly as possible, so there is no impact on the bottom line or productivity.
When a company that provides such valuable services for area businesses came to us for help with computer business exterior signs in Cleveland, we hopped into action. As a computer company, KingPin gets most of their customers through the internet, but they wanted to have a roadside presence. They were also working on a very tight budget.
Based on their vision and goals, we were able to provide them with a low key post and panel sign that included all of their contact information and their logo. Everything is easy to see from the road. The sign is durable enough to withstand the Cleveland winters. Plus, there were no installation fees, and KingPin can easily move the sign to job sites. They were more than satisfied with their new sign!
Post and Panel Signs Are Versatile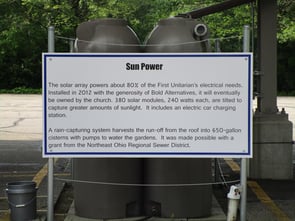 We have designed and installed post and panel signs for Cleveland companies of all types. There are many different styles and looks for these signs:
Designer Touches – Are you interested in having ornate newel posts incorporated into your sign? Or, perhaps you want other posts that provide an air of classiness? When there are so many different designs to suit your needs, there is no need to stick with a standard post. You can make post and panel signs whatever you want them to be.
Optional Illumination – Interior illumination sources come with some models. You can light your sign after dark with economical LED lights. Or, you can train the focus of a landscape light in the direction of your sign if you prefer not to have a light source incorporated.
Color Options – We can mix a hue of paints to match your unique logo, or we can provide standard paint colors. We are also able to use our state of the art, wide format digital printer to print directly on the sign to create precise graphics and vibrant colors that exactly match your company colors.
Post and panel signs can be used for wayfinding both outside and inside of a building. They can also be used to announce your location in places where monument signs are not allowed.
For all of your post and panel signage needs, Epic Signs & Graphics has you covered. Contact us for a free consultation!