Dimensional wall letters are a perfect sign option for the interior and exterior of a building. Due to the wide variety of materials and design options, you have the opportunity to shape your building's look and feel with 3 dimensional letters that you pick from our samples.
Material and Design Choices
Wall signs fabricated as dimensional lettering to be installed at Cleveland professional buildings may be made from plastic, metal, acrylic and also exterior grade hard foam.
Plastic Letters
Formed plastic is an excellent medium for the creation of 3D letters.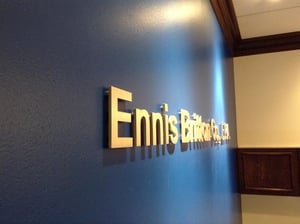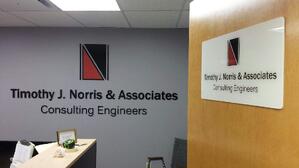 These plastic letters come in a wide variety of colors and have three profile shapes available. They can be rounded, flat or even prismatic. Bold reds, metallic shades or beautiful pastels can suit any building environment. Since plastic is exceedingly durable, use of the letters is suitable for interior or exterior sign projects.
Acrylic or Metal Laminate Letters
Laminates are available on acrylic, or hard foam style letters. Metal laminate adds durability to the letters and an affordable way to add a true metal look. The combination of hard durable foam with laminate covering the 3D letters stands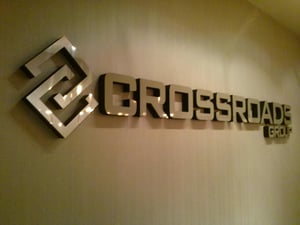 out significantly against the wall on which the letters are mounted as seen here. On multi-colored walls, the effect serves to heighten the color experience. On monochromatic walls, the effect is one of dramatic sophistication. These letters are excellent choices for the inside of the building.
Cast Metal
When you want to exude durability, time-tested professionalism and your confidence in a long-standing business relationship with clients and customers, cast metal is a hard-wearing classic option. These letters are made to last outside or inside for decades and you cannot beat the true look of brushed aluminum letters since they are naturally fabricated thick from 1/2" to 1".
Flat Cut Metal
Using precision lasers or water jet routing technology, our experts create stunningly crisp flat metal letters. Since they come in a variety of thicknesses, you can adapt the dimension of the signage you are creating. Opt for flatter signs for the look of elegance and use thick letters to make bold statement.
As you can see there are many options from which to choose when fabricating 3D custom letters. Call Epic Signs & Graphics for a free consultation and to see samples that we would be happy to show. You are also invited to check it out at our company, just give us a call for an appointment and we would be happy to pull together a quote for you today!