When you are ready to get serious about your branding and marketing efforts, wall murals are the way to go. Not only are these affordable marketing solutions, they can change the atmosphere of your interiors in a snap. They also invite clients in with images and graphics that align with your busines theme. Let us help design custom wall murals for you.
Why Not Go With Paint?
Paint is not as cheap as it used to be and then you have to find a professional painter or make it a DIY project. It's more advantageous to go with wall murals or digitally printed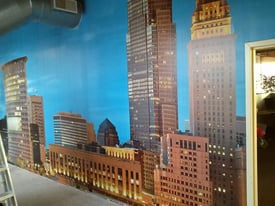 wallpaper to invite, engage and make your clients comfortable. So why is paint not the perfect choice? The answer is simple: branding. Paint might cover quite a bit of square footage on your store's walls, but paint alone does not leave a lasting impression.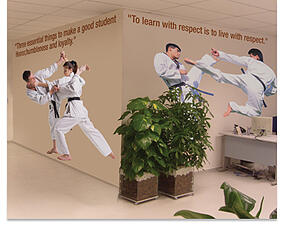 A white wall is just that: a white wall. Depending on the painter's expertise in preparing the surface and applying the paint, once painted, you won't get the attention wall murals offer. On the other hand, a white wall that serves as backdrop for digitally printed wallpaper is sure to stand out head, shoulders and torso above the competition's use of wall space.
Sounds Great! What Are the Options?
Mural. Murals are usually printed full color digitally on a wide format printer on a self-adhesive type vinyl. Rather than using a pre-paste type system, the type we use has an adhesive already applied to the back so we can lierally take it from the printer to your wall. Unless it is lamnated, then we need to apply either a gloss, matte or luster finish before application.
Die cut. Incorporate the main part of a photo into the wall display of your store. Take the sunrise photo of a gorgeous Mount Kilimanjaro that would look great against the sunrise painted on your wall. If you have a restaurant that specializes in offering breakfast, lunch or dinner foods, this is a great way of setting the mood.
Street grips. By the way, your wall mural can also have a partner that takes up residence on the ground. Made of slip-resistant and durable materials, you can have a copy of your wall mural turned into something that passersby see as they walk by your store. Whet their appetites for what they might find inside.
Are There Additional Enhancements?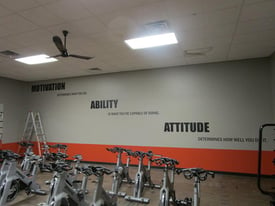 It is possible to print your wall murals on specialty material that comes with unique texture options. For instance, slightly coarse touch is excellent for the scenery that is heavy on rocks and sand. It has a natural matte finish that has a classy finish. If mountains, beaches or running trails are going to be the topics for your wall decor, then a coarse paper is the perfect choice.
For the photos that depict plenty of waves and water action, go with the paper that has a slight swirl pattern. It ensures that the paper itself gives off the illusion of some movement, which creates an aesthetically pleasing look that is sure to get more than one customer to come closer for a second look. And this, after all, is what you are after. Once customers are done inspecting the wall murals, redirect them to the products on the shelves. This is a great opportunity to turn a window shopper into a store visitor and then a paying customer.
So, isn't it time to switch things up a bit and choose wall murals for your Cleveland or Northeast, Ohio business? It's simple to get a quote...