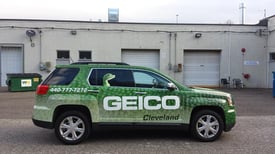 How much does your business spend on advertising each year? With newspaper ads, radio spots, and television commercials, it can get quite pricey. Do you know if these forms of advertising are even helping your company grow and attract more customers? With the movement away from traditional media, it is unlikely your advertising dollars are having the level of impact you they once did. But, there is hope!
In a recent study by the world-renowned vinyl manufacturer 3M, researchers found that with a single full vehicle wrap on your company car, you can reach the same number of people as you would with $130,000 in advertising through traditional media outlets. Plus, your vehicle wrap and decals will reach your target audience and advertise your business 24 hours a day, seven days a week.
Advertise on Your Cars!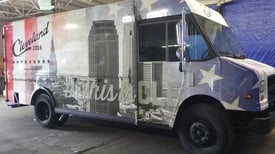 But, who benefits from window cling and car wraps in Cleveland? The short answer is just about any business that is looking for new customers. Some of our clients include
Real estate agencies
Franchisees
Driving schools
Insurance agencies
Small business owners
And more!
Types of Vehicle Graphics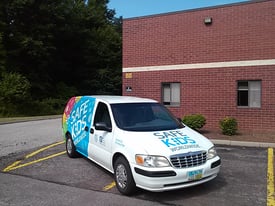 Window cling and car wraps for Cleveland come in a variety of different forms. Below is a rundown of the major types:
Full Car Wraps – These are ideal for companies that want their fleet to have a big impact and are willing to spend a little extra for it. A full wrap can completely cover the vehicle including the roof and rear window, or it may cover the hood, sides, trunk deck, and rear. A completely custom, unique appearance is provided by this. Without spending as much as a custom paint job, you will get the message out to potential customers.
Partial Car Wraps – These still grab the attention of onlookers at a lower price than the full car wraps. A partial car wrap may be your ideal option if you want to wrap your vehicle on a budget. By taking advantage of the billboard areas on your cars, the Epic Signs & Graphics design team can create a one of a kind look that turns heads.
Window Cling – Window cling, also known as vinyl window perf, can turn your car into a moving advertisement on its own or as part of a wrap. While giving the appearance that your window is covered with your message, it is actually made with state of the art one-way vinyl that affords you full driving visibility.
Vinyl Lettering – When outfitting an entire fleet or just one car, there is nothing more economical than vinyl logos and letters for your vehicle. This will give your cars a professional and clean appearance while spreading your pertinent information.
Using a cutting edge wide format printer, Epic Signs & Graphics is able to print out vibrant and precise full-color graphics on to durable vinyl and install it to fit any vehicle. For up to five or more years, your car will increase your business's branding with our window cling and car wraps. Give us a call or send us an email today to find out what we can do for you!