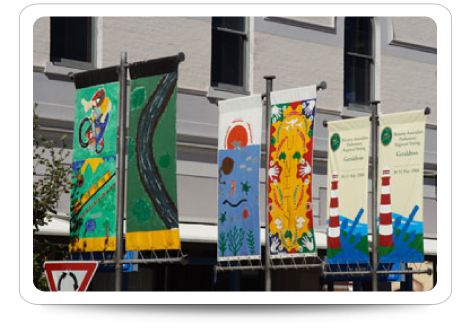 The Black Friday signs Cleveland retailers need this season span both the inside and the outside of the location. In the past, excellent exterior signage was sufficient to generate foot traffic and get plenty of consumers into the door. This year, there are reports indicating that holiday shoppers are not as likely to part with their hard-earned dollars as they were last year. As your competitors get ready to get out their Black Friday signage, do not leave your foot traffic to chance. Better your odds of getting plenty of window shoppers by relying on a powerful one-two signage punch.
Outdoor Banners
Popular marketing message options to consider as holiday signs for Cleveland retailers this year are outdoor banners. They are durable, highly visible and attract attention because of their temporary nature. Temporary banners always signal consumers that there are special deals, products or services being offered by a retailer.
You have the added flexibility of putting them up or taking them down in a jiffy. For example, if you are advertising a two-hour sale on electronics, you can hang the banners early on but take them down when the two hours have elapsed. The experts at Epic Signs and Graphics suggest using colorful designs, your logo, typical signage typeface as well as customized graphics. This not only educates customers about your specials but also assists with overall brand recognition.
Indoor Banners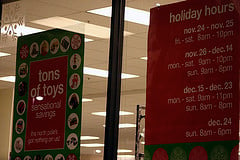 When it comes to interior Black Friday signs, Cleveland retailers cannot go wrong with smaller version of the exterior banners. Yet – anticipating the heightened foot traffic – it may be a good idea to also add some banners for directional purposes. Let visitors to the store know right away where you keep your one-day-only specials, your electronics and your sales section. This avoids a bottle neck at the door and keeps the flow of shoppers going at a good pace.
Indoor banners continue on the marketing conversation that you started with your outside signage. Expand on the deals, offer additional details and do not neglect to also offer additional specials. For instance, it never hurts to let customers know which products are commonly used to accessorize a good. If there is a very popular product that your customers will look for, be sure to let them know what other shoppers buying this item have also chosen to purchase.
Augmenting the Banners with Flags and Floor Graphics

Floor graphics are perfect for augmenting your banner message with branding information. Get your store name associated with popular brands, which will generate additional interest in your other products. If you are operating a relatively new store, putting down floor graphics of popular brands or products is a great way to bring in consumers who may be less likely to try something new. When they see ads for a product that they usually buy, they are more likely to enter your store in the hope of finding other already-known or experienced merchandise.
Flags are a great means of adding a festive atmosphere to your venue. When they blow in the breeze, the movement is also a perfect eye-catcher. Choose flags that are of the same color as your banners, logo or store colors. Imprint them with your logo, with pictures of popular products or leave them blank. Since Black Friday marks the official opener of the holiday shopping season, you might even want to hint at the Christmas holiday with a few well-placed candle, reindeer or Santa Claus graphics.
There is no doubt that the Black Friday holiday signs for Cleveland retailers must entice would-be buyers to head over to your retail location for a closer look. From there, the interior signs pick up the conversation and transform window shoppers into actual buyers. Make sure that you get your share of this year's seasonal spending money the consumers are willing to part with. Talk to Epic Sign's graphic artists for more information on banners and additional signage.