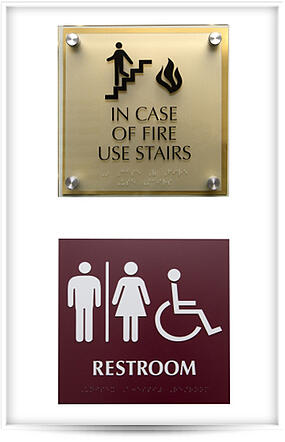 Smart retailers know that high impact signage is what you need if you want to get noticed, drive sales, and attract customers. When designing your store, quality signage is an effective and simple way to communicate with your customers and drive foot traffic. On the other hand, you can cause confusion and overstimulation if your signage is not produced correctly. Fortunately, Epic Signs & Graphics is an expert source for retail signs for Cleveland retailers.
Types of Signage
The following signs are the must-have types of signage for Cleveland retailers:
1. Americans with Disabilities Act (ADA) Compliant Signage
This tops our list because it is technically a must-have under federal law. In addition, ADA signs will make all of your customers feel welcome. You will make the experience for disabled consumers more enjoyable and comfortable by offering access by way of appropriate fitting room, restroom, parking, elevator, cashier station, and exit and entrance signs. You are doing your patrons a disservice if you do not make your accessible features known.
2. Wayfinding and Directional Signs
Wayfinding and directional signs may also be known as departmental, organizational, or informational signs. They improve the consumer experience by making your store easier to navigate. Customers are more likely to come back to your store when it is easy for them to find what they came in for. So your patrons can understand the message with just a glance, all of your directional signs need to be easy to read and concise. Also, do not forget the restroom signs!
3. Sidewalk Signs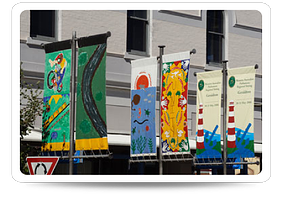 The largest hurdle to beginning a relationship with clients is getting them through the door. Nothing does that quite as well as sidewalk signs. This is also one of the first impressions people get about your business. Sidewalk signs draw in customers, make them want to buy from you, and announce who you are.
4. Floor Graphics
You probably did not think you would get homework when you started reading this blog, but we have a little assignment for you. Pay close attention to the direction you are looking the next time you walk around a store. Chances are, you are like most consumers and have a smartphone that you are looking down at. With so many people now looking down, floor graphics are more effective than ever.
5. Sales Signs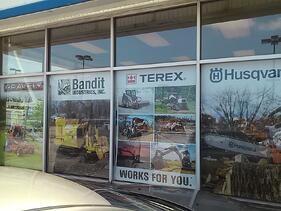 Sales signs can take a variety of forms. Window graphics, posters, banners, and more are used to announce sales. The bottom line is you need to advertise your sales if you want them to be successful. Signs in and around your store target the people most likely to take advantage of your special offers.
Smart Ideas for Your Retail Signage
No matter the type of signage you get, be sure it is written in the style of a newspaper headline: simple, specific, and concise. Also, there should be a call to action. Let the consumer know what they can do to achieve a goal, such as taking advantage of a sale.
If you need help with your retail signs, contact Epic Signs & Graphics for the professional treatment.