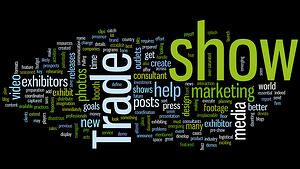 At trade shows, there are two types of exhibits. There are those that really grab the crowd's attention and that demand that visitors come to the booth. And then, there are those booths that are passed and ignored by people on the way to these eye catching booths. You typically have to fork over a hefty chunk of change to get your trade show booth. So, which type of exhibit would you like to be? Which type will maximize your earnings and sales conversions? Epic Signs & Graphics has suspended signs and tower displays that will serve as a crowd magnet.
Location, Location, Location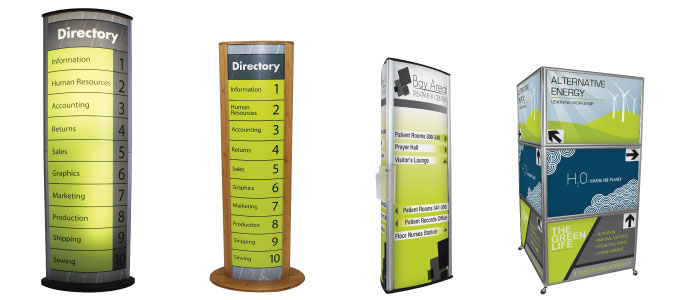 First off, let us talk a little about booth placement. This is a key consideration since the trade show attendees immediately take notice of the first few rows and aisles upon entering the hall or convention center. If at all possible, pay an extra few bucks or schmooze the event organizers to try and get the prime real estate.
But, what if you are new to the event? Or, what if you missed a few years and do not have the long history of attendance needed to garner the best spots? There is no need to worry. Good trade show signs and graphics can easily make up for any poor booth placement. Two of our most successful displays are the tower display and suspended signs.
Direct People to Your Booth with Suspended Signs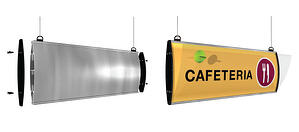 Depending on the venue and event regulations and restrictions, you can use suspended signs to immediately grab the attention of attendees as they arrive. Typically, suspended signs are sixteen to twenty feet in the air and suspended from the ceiling of the venue. The effectiveness of these signs lies in the fact that they are not that common.
You do not see many suspended signs at events because they typically take a little bit of planning and coordination with event organizers. Most events have riggers who will help you hang your suspended sign and subsequently take it down, usually using a scissor lift. This is too much of a hassle for your competitors, thus it works to your advantage when you get all the attention.
Tower Displays: Cost Effective and Highly Visible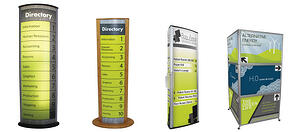 Another crowd attracting option is the tower display. Compared to a suspended sign, a tower display differs in that it stands on its own on the floor. So, you do not have to worry about coordinating with event organizers to put up your display. A tower display gives your business visibility in all directions, 360 degrees, and it only takes a few minutes to set up.
Tower displays are also incredibly versatile, since they can be set up anywhere around your booth. We have several different types of towers, including prism, cube, tri-tower, and backlit towers. They also come in a vast array of heights between three and six feet tall. One great aspect of tower displays is that they also work great outside of trade shows in the lobby of your business.
Ready to make your next trade show a profitable experience?