The Polish Village commercial district in Parma OH features a variety of smaller, family owned businesses, medical offices, and other quaint storefronts. In Parma, it is one of the most walkable neighborhoods. Many of the businesses are located in older buildings with a lot of history. Epic Signs & Graphics has a lot of experience fabricating exterior building signs for Parma OH. So, when Ed Martin, owner of one of these buildings asked for our help, we were more than up for the task.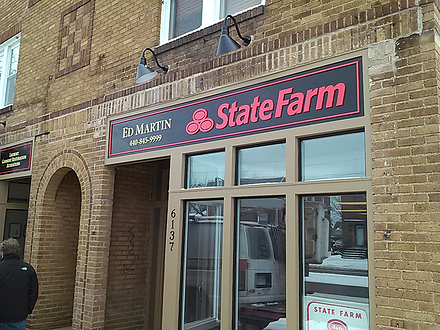 Ed Martin – State Farm Agent
In addition to owning a building in the historic Polish Village district, Ed is a State Farm insurance agent. He needed signs for both his business and the Parma Cleaners, to whom he leases space in the building. After graduating from Bowling Green State University after majoring in Insurance, Ed went right to work for State Farm. Since 1986, he has been one of the premier State Farm agents. His mission is to help people recover from the unexpected, realize their dreams, and manage the risks of everyday life.
A look at the building before the new signage installation...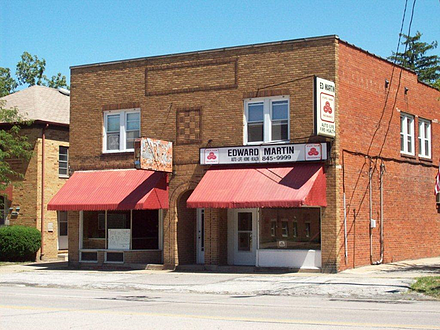 Added illumination helps the sign stand out at night...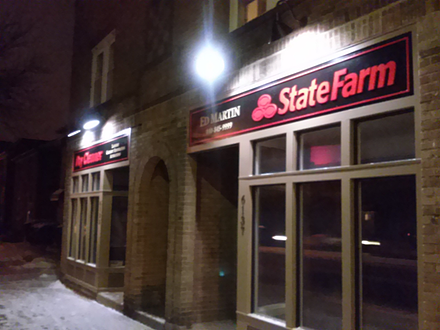 To fit the neighborhood and the recent remodeling done to the building, Ed had met with an architect prior to having Epic Signs & Graphics manufacture his signs. Based upon the architect's rendering, we were able to produce the retro looking sign that Ed and Parma Cleaners required. The sign's backface is made from 6 mil metal, and the letters are made of PVC. We installed the signs to give a seamless look that blends well with the surroundings. The excellent color combinations have really attracted the attention of passersby in the heavy foot traffic area.
Solutions for Buildings of Any Type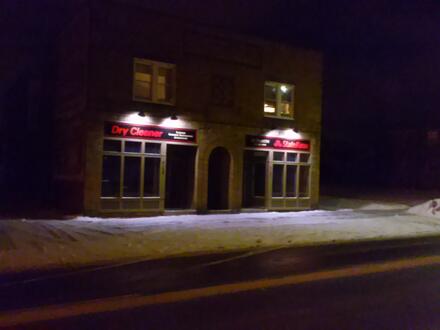 In this case, an architect created the design concept, but Epic Signs & Graphics does have a graphics team that is able to produce signs that go with any building's exterior décor. Whether it is art deco, contemporary, Mediterranean, modern, neoclassical, postwar, pre-war, pueblo, or any other building style, our team will create signs that complements your structure.
Though it does not get much more durable in the harsh Ohio winters than the PVC and metal combination chosen by Ed, we have a variety of different options you can choose from when picking out property management exterior building signs for Parma OH. These include:
Channel lettering – These come in both illuminated and non-illuminated varieties and are constructed from rust resistant aluminum frames. The illuminated channel lettering have acrylic faces to allow the energy saving and long lasting LEDs to shine through.
Dimensional building letters – These letters are made from flat cut metal, foam, acrylic, cast bronze or aluminum, or PVC. These letters are extremely rugged making them ideal for just about any signage application.
LED message boards – Monochrome, color, and custom LED signs are our specialties. LEDs are a heavy duty way to get messages across that need to be updated regularly.
Monument signs – Of all signs, these are the most recognizable. Great for building complexes.
This is just a sampling of the options we have. Contact us today for a free consultation.
Below are some additional images of the fabrication process...