You essentially have two choices when deciding on how to stripe your ride: vinyl adhesive stripes or painted on stripes. There is a third option of duct tape, but we think you will agree that this option is to be avoided at all costs unless you are making a parody of Fast and Furious.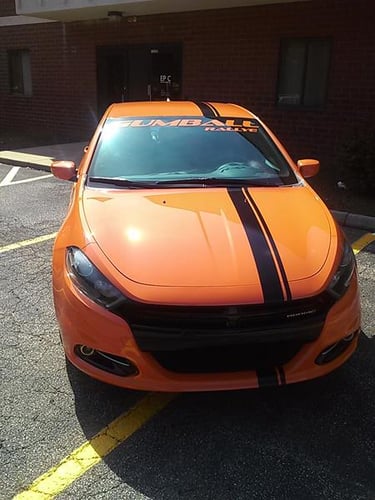 There are both pros and cons associated with vinyl and painted on stripes. The two types are basically indistinguishable from each other, yet vinyl stripes are much less expensive. The owner of this Dodge Dart Rallye recognized this and called on Epic Signs & Graphics for Dodge Dart racing stripes in Cleveland.
About the Dodge Dart Rallye
The Dodge Dart Rallye is a fun little car. It has a limited edition 1.4-liter four-cylinder engine, which produces 184 lb-ft of torque at 2500 rpm. It is a nice ride for long distance trips with 39 miles per gallon fuel economy, yet it also has a good amount of get up and go. The Dart Rallye can get from 0 to 60 mph in about eight seconds. And, it just looks awesome with the orange factory paint job.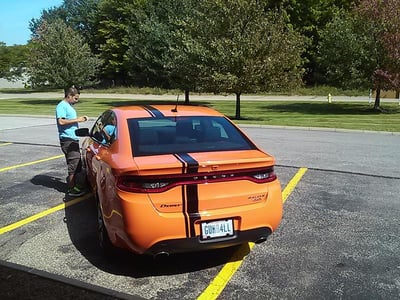 When the owner of such a sweet vehicle came to us for racing stripes, we jumped at the chance to work on her car. After discussing with the owner exactly what she wanted, we went right to work. We used our highest quality 3M car vinyl and paid close attention to detail, working with the precise contours of the car. In the end, she was ecstatic about the job we did: yet another satisfied customer!
Painted on Stripes Vs. Vinyl
At this point, you may be wondering, "What are the best racing stripes for my car in Cleveland?" To help you decide, we have put together the pros and cons of the two main types.
Depending on the materials that are used and who does the job, painted on racing stripes can cost anywhere from $500 to $2,000. As part of the process, only the area of the car that is to be striped will be exposed, while the rest of the car is taped off. They will then sand the area and spray the paint on. In the end, you have a stripe that will typically last longer than a vinyl stripe. Unfortunately, once a racing stripe is painted on, it is difficult to remove or alter.
Vinyl stripes are just a fraction of the cost of a paint job. You can have your car back the same day, whereas you may have to give up your car for a week or more to get a stripe painted on. Also, take a close look at the Dodge Dart Rallye above. Notice it is impossible to tell if it is vinyl or painted on. Plus, you can protect the resale value of your vehicle, since the racing stripe is easily removed.
All in all, vinyl is the more cost effective way to go. And, having the professionals at Epic Signs & Graphics do the job will ensure it is done right. Contact us for a free consultation!