Since medieval Europe, innovative merchants convened to share their goods with the public using imaginative exhibits full of flair and the unusual. Keeping with this tradition, trade shows are now wildly popular among industries of all varieties.
Reasons You Need to Shine
Whether you're looking to upsell an existing product, launch a new line, or increase your customer base, a trade show is just the stage on which to market your goods.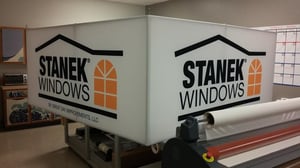 With holiday shows fast approaching and conference season right around the corner, now's the time to start pricing and planning. Naturally, you'll want to put your best foot forward, ensure those hard earned marketing dollars are put to good use and give your on the floor sales associates a leg up.
However with some venue spaces spanning 3,00,000+ square feet, can you really afford to get lost among a sea of competitors? The right mix of professional displays including show banners, displays, stands, and table covers is the sure-fire way to win attendees while standing out among your industry peers.
For those retailers, service providers and commercial building owners in the Cuyahoga County, Ohio area, Epic Signs & Graphics are the professionals to satisfy all your trade show needs. Just listen to all these unbeatable displays!
Top Portable Trade Show Displays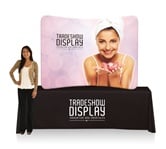 By using three or more of these popular displays, you're sure to provide trade show attendees with a highly educational experience at your booth. Don't know which combination to choose? Worry not. We can help you formulate the best combination to fully market your product!
Floor graphics - Help conference attendees feel extra welcome with your logo at foot level. It sets the stage for brand reinforcement.
Banner stands - Encourage a closer examination of your booth with enticing banner stands. Our experts will help you properly space them so as to draw attendees to your stand like a magnet.
Table covers - Solidify your brand by stylishly promoting your logo and overall color scheme. We'll be sure all printed words are consistent and appear in the same typeface as your signage.
Pop-ups - Define the space for your booth with these diverse pop-ups. Whether you need them to serve as background on display tables or full pop-up tents with front or side walls, our pop-ups are sure to catch their glance.
Panel systems – Promote or highlight a new product or put your best sellers on display with a stand-alone panel system. They create an easy-to-set-up backdrop for your display tables and demonstration areas.
Recommended Uses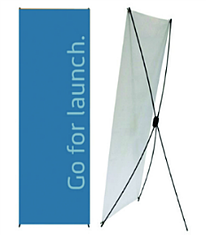 Virtually all types of businesses benefit from displaying their products or services at a trade show. Here are just a few industries who are primed to take advantage of our custom displays:
Retailers - Get new customers in the door by displaying the popular and new items you carry.
Professional service providers - We recommend attorneys, accountants and notaries use imagery and text to explain why their services are crucial in today's business environment.
Skilled trades - Plumbers, electricians and contractors benefit tremendously from showcasing their expertise, displaying new product options and highlighting available services.
Schools – Want to enroll new students by marketing to parents and older siblings? Preschools and elementary schools might choose to highlight art and mathematics programs that give children a competitive edge.
No matter your chosen trade, Ohio residents in and around the Cleveland and Cuyahoga County areas know quality when they see it. When you choose Epic Signs & Graphics as your portable trade show display provider, you're making a bold statement that only the best will do.
Next time you're planning a booth setup, trust the experts to help you with everything from making size adjustments to offering you sound advice on the best combinations of portable displays.
The typical trade show booth in the U.S. is about 10 ft X 10 ft. It's a little space with big costs and even bigger potential revenue. Choose wisely or better yet, let us help you choose the perfect display products!