Dimensional wall letters are just hard to turn down as an effective way to get your organization noticed. Great for both indoor and outdoor use, dimensional lettering creates a clean, sophisticated look. When installed professionally there's the suggestion of establishment and permanence. Just say YES!
When Northern Ohio Regional Multiple Listing Service (NORMLS) and Centralized Regional Information Service (CRISmls) decided to consolidate and combine to form a single organization, the merge entailed a name change: Yes-MLS. The newly consolidated service came with a new name and a new logo, which needed to be represented in their offices.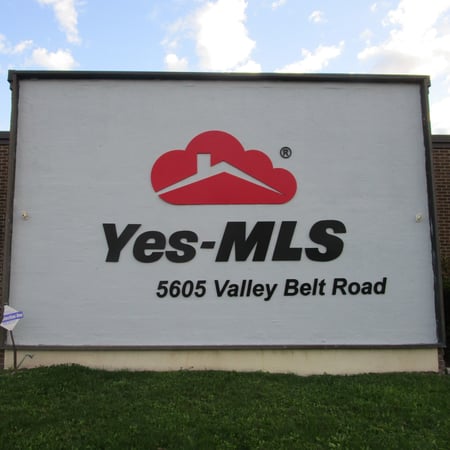 Already familiar with our work, Yes-MLS contacted us to create dimensional lettering to identify their building, as well as to create a directional sign for their driveway. We suggested routed PVC materials, painted to match their new corporate logo colors -- a bold red, black, and white.
We used the new Yes-MLS logo and rendered that in a photo to scale, based on our survey of measrements. Upon Yes-MLS's approval of the design, we proceeded to obtain the necessary permits from the city for installation -- this is part of the service we provide. Once approved, and after permits were secured, we headed into fabrication for routing, painting, and finishing Yes-MLS's dimensional graphics.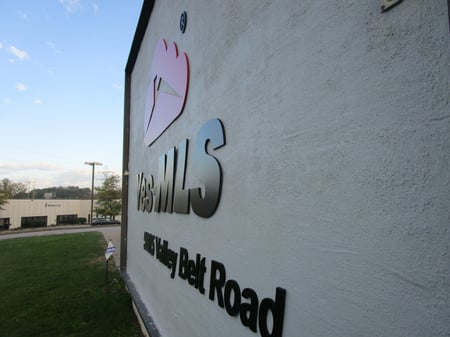 Once the fabrication process was completed, we headed to Yes-MLS for installation. Using their existing white wall as a backdrop, we drilled holes to affix the dimensional wall lettering; dimensional graphics have studs mounted on the back so that they can easily be attached to the surface.
The final product of Yes-MLS's exterior signage is an eye-catching dimensional design with bold colors that stand out against the existing wall color. Sans serif text makes the company name and street address clear and easy to read for those driving by and perfectly communicates their new corporate identity. The best part of choosing dimensional wall lettering in PVC is that Yes-MLS's signage will last for many years -- it's a great low maintenance choice.
If your Cleveland area business is ready to say "Yes!" to dimensional graphics, contact us today to work with our design team to create a design that works with your budget and clearly communicates what your business is all about.