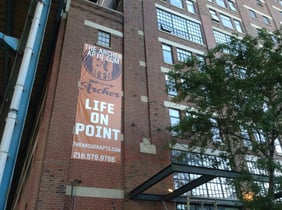 There may be no more effective way to advertise your company than with exterior signage. If you are thinking of adding outdoor signage to your building, there is a good chance that you will need a sign permit. Before you can put up your sign, there is a set of paperwork and a specific process for many types of signs in Cleveland. A lot of the time, the process is arduous and long. This blog entry will seek to answer the question: Do I need a sign permit for outdoor signage in Cleveland OH?
The Law in Cleveland
Every municipality has specific rules regarding signage in their jurisdiction. Most of these laws are designed to keep the area safe and to improve the aesthetic appeal. The signage laws for Cleveland are online. This will give you a good idea of what you are getting into and should tell you what types of signs need sign permits in Cleveland OH. Marquee, wall, ground, pylon, fixed awning, projecting, and even window signs often need permits.
If you find you do need sign permits for Cleveland OH, you can find the application on the website for the city. There are a variety of things you should be prepared for during this process:
Get a Field Survey – Gather all of the information on your signs and where you are going to put them before you begin to apply for a permit. Some questions you should ask yourself include
Where will you place the signs?

What will the signs look like?

Are you purchasing the signage from an out of town wholesaler or getting them locally?

How big will they be?
Since this is information you will need to know anyway when planning your new signs, it should be simple to gather. Keep it organized.
Check City Codes – Make sure your signs are up to code before they are finished. Spend some time looking at the signage regulations for Cleveland. You do not want to find out that your signs is too big to get a permit after you have already planned out the entire sign.
Do the Paperwork – The most time consuming part of the process is collecting all of the needed documentation. You will most likely need to have items like the engineering details, a notarized Letter of Authorization from the owner of the property, and the estimated project cost.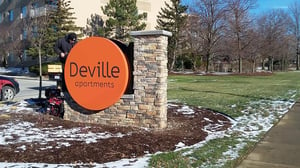 Follow up on the Paperwork – The Department of Building and Housing should be able to give you an idea of how long it will take before your application is approved. To make certain your application does not get lost, make a point of checking back with the Department of Building and Housing if you have not heard from them in a while. You should hear something within two weeks.
Get Help with Your Permitting
Does this whole process sound a bit daunting? You are not alone. Epic Signs & Graphics has helped many businesses with the paperwork and other parts of the process of legally installing new signage. We are well-versed on not only the building codes in Cleveland but also throughout Northeast Ohio. Contact us today for help with your project!