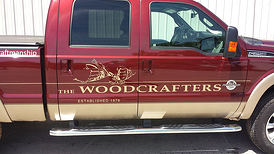 There are several steps involved with designing and installing vinyl lettering on a vehicle. Graphic designers need to first meet with the company to understand what exactly they have in mind. Then, the designers must create graphics and lettering that the company is happy with. Once they receive approval, the commercial sign company must then fabricate the vinyl lettering and graphics. Finally, it is ready to be installed.
All of these steps require skill and experience, but they do not have to be performed by one sign company alone. The Woodcrafters in Bradenton, Florida discovered this when they had Epic Signs & Graphics design and produce their wholesale vehicle vinyl lettering and graphics. Then, local sign company Great Blue Images installed it.
Branding with Your Company Logo
The first thing you notice when you look at the vinyl graphics and lettering we produced for The Woodcrafters is their logo: a craftsman using a plane, a tool that has been used for shaping wood for millennia. As far as logos go, this is a fairly intricate one, which we were able to render in premium metallic gold vinyl.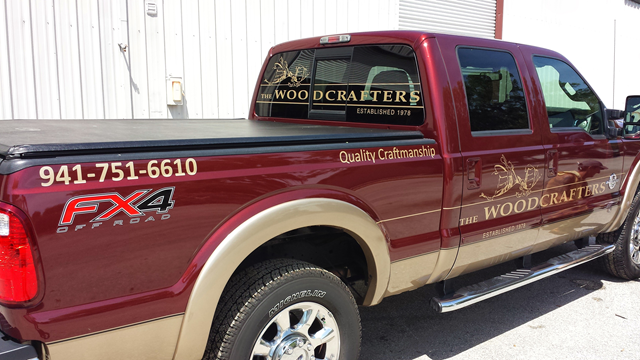 It was important that we include the logo because that is part of raising The Woodcrafters' brand recognition and keeping the brand consistent. On all of their marketing materials, including their website, you find the same logo. You will also notice the font. We were able to precisely reproduce the font from The Woodcrafters' other sales items for brand consistency.
Branding is important in building the awareness of your company and becoming a trusted name in your area. The more people see your recognizable logo, colors, font, and name on your company vehicles or on other forms of advertising, the more they remember you. This increases the likelihood they will trust your business as a reliable and established provider of services or products and will come to you when they need your widget.
Companies that Can Benefit from Vinyl Lettering
Vehicle vinyl lettering will benefit any business. You do not need to have company vehicles or be a delivery business. We have provided vinyl lettering to companies in the following sectors:
Delivery and pick-up service companies
Auto dealerships
Automobile franchises
Companies with vehicle fleets
Electricians, HVAC contractors, plumbers, general contractors, subcontractors, and other contractors
Franchised businesses, like home and commercial cleaning services, carpet cleaners, auto collision centers, and restaurants
Courtesy shuttles
Parts delivery trucks
Wherever you are in the United States or beyond, Epic Signs & Graphics can create wholesale vehicle vinyl graphics and letters for your company vehicle or fleet. In addition, have sign partnerships all over the USA we can recommend so the lettering is installed by experts in your area. We can also install your new vinyl graphics if you live near our home base in Cleveland, Ohio.
Contact us if you need a commercial sign company that can produce perfect vehicle lettering and graphics or even full wraps!