You're likely familiar with the quote, "You never get a second chance to make a first impression," which especially rings true when it comes to your business's signage. The lobby is the first thing your customers and clients see when they enter your facility, and very often, it's your first opportunity to make a lasting impression. Cleveland company, FrameCo, features a lobby sign that literally stands out in their new facility.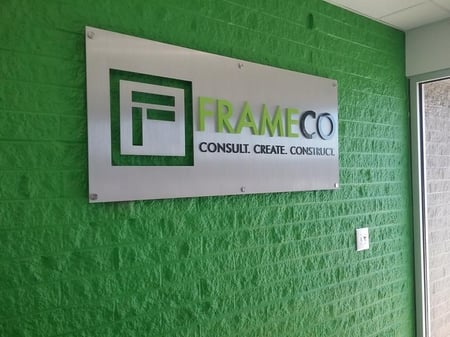 Your entry way sign is critical in branding and representing your business because it's the first thing clients and customers notice when they enter your business premises. Your lobby's appearance is what your clients will use to form their initial judgement of your company, and it creates a lasting impression as they leave. Office entry signs typically feature a business name and logo, and FrameCo recently installed a lobby sign that absolutely pops.
Routed from ¼" thick aluminum, FrameCo's custom lobby sign is cut to work with the accent wall on which it's mounted. Featuring a center logo, routed out and installed as a separate piece to show the logo shape, FrameCo's office sign uses the accent wall to give the logo dimension and stand out with bold color. The aluminum surface is nicely finished in satin brush. The larger panel features letters routed from acrylic and applied directly to the panel. Once complete, the entire lobby sign was installed on a masonry wall with decorative offset mounts.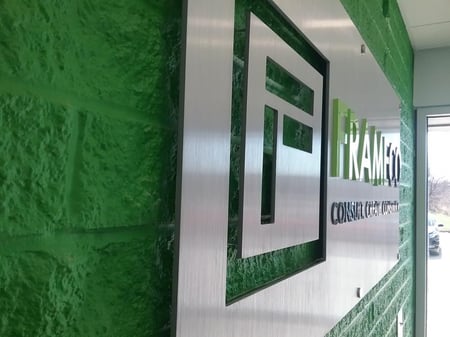 FrameCo's lobby sign features a neat, clean font for optimal readability. The size of the lobby sign is appropriate for maximum impact, and the bold color of the accent wall makes their logo stand out, reinforcing their brand identity and creating a lasting impression. You can check out more examples in our gallery.
If you're looking to update your business space, consider creating custom interior signs to incorporate throughout. Not only will it breathe new life into your existing space, it can inspire employees and leave a positive, lasting impression upon clients. Call today for a consultation and develop a plan!