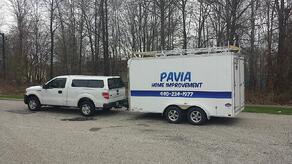 Contractors work in a highly competitive market. Any little edge you can get over the competition can help you to stay in the black. One way to get an edge is through building your brand awareness in the area. Pavia Home Improvement recognized the need for truck and trailer graphics in Cleveland OH and called Epic Signs & Graphics to get the job done.
About Pavia Home Improvement
Pavia Home Improvement is relatively new to the Cleveland area. They are the type of company that lets their quality remodeling work speak for itself. For the most part, they have thrived due to word of mouth from satisfied customers. But, as they are looking to grow, Pavia has been looking for new ways to reach customers.
When such a high quality company came to us looking for contractor trailer graphics in Cleveland OH, we were more than happy to help out. Pavia had tried working with our competitors, but they were unhappy with the level of service they were getting. The competition was just not friendly from their perspective. Epic Signs & Graphics was more than happy to work with them.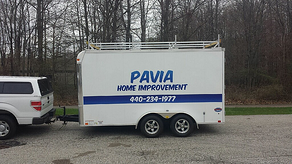 Our first step was to find out what their vision was exactly. After listening to them, we were able to find the color and font they wanted. From there, we printed the company name and phone number on 3M vinyl with our wide format printer. Next, we laminated it to make it extra resistant to the harsh Ohio weather then cut and installed. The result was one happy customer!
Our Solutions Are Epic!

With truck and trailer graphics for Cleveland OH, we will turn your trailer into a giant rolling billboard. On the road these days, you will find some of the most adventurous and creative graphics on the side of trailers. Epic's brand enhancing designs will put you ahead of your competitors by delivering impressions every time your trailer is on the road.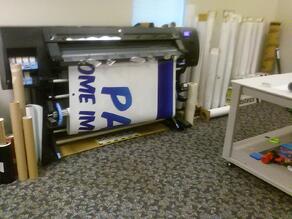 A trailer generates over ten million visual impressions per year according to the American Trucking Association. When we incorporate reflective material into your graphics, that number jumps to more than fourteen million impressions. This will elevate your visibility in the marketplace and increase your brand recognition.
You reach all of these people with vehicle vinyl lettering and graphics at a fraction of the price it costs to advertise using traditional media, such as radio, television, newspaper, or the Yellow Pages. Plus, your trailer is advertising your company 24 hours a day, seven days a week. That means that as your trailer sits on the job site, you are increasing your brand awareness. If it looks like your employees are doing good work, then you will likely rack up the sales conversions and leads.
The Epic Signs & Graphics team has decades of experience creating vehicle graphics for local businesses. Plus, they stay abreast of the latest technological advancement in the field to ensure they provide the most durable and sharp signs and graphics possible. Call today for a free consultation!
Now, here are some additional images of the fabrication and installation...