As a property manager, it is important that you keep your tenants happy. This includes making it as easy as possible for clients and customers to find businesses in your complex. One way to do this is with the appropriate signage. Coven-Goldman Associates recognized the importance of property management post and panel signs for Cleveland, OH and called Epic Signs & Graphics to help promote their tenants.
A Little About Coven-Goldman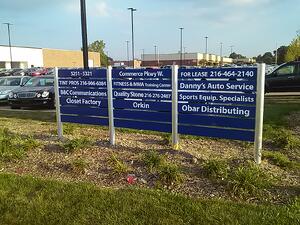 As a commercial real estate firm, Coven-Goldman Associates specializes in property management and real estate development. Located on Mercantile Road in Cleveland, they manage and own more than 1.5 million square feet of warehouse buildings and single story offices. They have been involved in commercial and industrial real estate for over half a century.
When a company that has been serving Cleveland area businesses for so long came to us for signage, we were ready to meet right away to design something spectacular. Coven-Goldman already had a directory sign for their Commerce Parkway West property, but it was horribly outdated. They needed a more modernized look.
How We Helped

For the posts, we used four round extruded aluminum poles that were each four inches in diameter and had a brushed metal look finish. The poles were installed three feet deep and held in place with cement. As part of our project management capabilities, before digging, we worked with utilities to make certain we would not take out any communication, water, or electricity lines.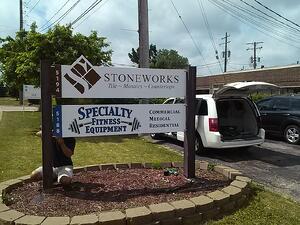 For the panels, we installed six inch wide PVC panels with vinyl lettering applied for the companies and the address. In the end, the sign is 150 inches in total length and stands at eight feet high, so people can see tenant information from near and far.
What We Can Do for You
Property management post and panel signs in Cleveland are a perfect choice for any company because of their inexpensive pricing, versatility, and ability to get your business's message across. There are a variety of different uses for these signs beyond just letting consumers know where you are located. We have several types of popular post and panel signs: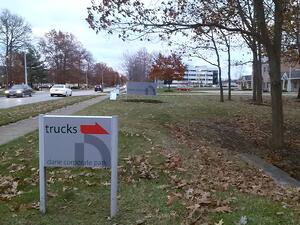 Frameless – If you want to use unique shapes and keep your prices down, go with frameless post and panels signs. The U-channels that go in the ground are attached directly to the vertical edges.
Twin Hinge Illuminated – These work great wherever readily changeable copy to promote events or display information is needed. Directory signs also use these types of post and panel signs.
Classic – These carry a single message panel and sport a beveled picture style frame. The frame is held in place by concealed locking squares.
Illuminated – For these signs, one polycarbonate face or two illuminated aluminum faces can be used. Illuminated post and panel signs feature cabinet style frames and are made from heavy gauge, extruded aluminum.
Slide Panel Illuminated – A main feature of these signs is the easily removable panel inserts, which makes them ideal for information that is likely going to change in the future.
Double Panel – Featuring a traditional cabinet style frame, these have two message panels chemically bonded to a polystyrene core for extra strength against the weather.
If you are considering post and panel signs for your property, contact Epic Signs & Graphics today for a free consultation!