Trust is an important characteristic that all auto dealerships want to inspire in their customers. Those who are shopping for a new vehicle are much more likely to buy from salespeople they know are giving them honest information. One way to build trust is by winning awards. So, when Ganley BMW won 2014 Dealer of the Year from Dealer Rater, they wanted to let their customers know about it. Through previous experience, they knew Epic Signs & Graphics provided the best Cleveland auto dealership window showroom banners, so they came to us for a window cling sign publicizing their accomplishment.
Who Is Ganley BMW?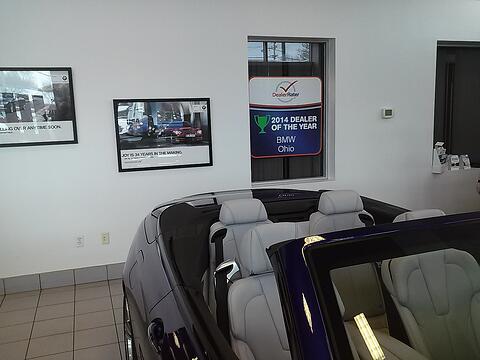 For nearly three decades, Ganley BMW has served as an official franchise for BMW. Located in Middleburg Heights, they proudly serve Strongsville, Elyria, Akron, and Cleveland. In the community, Ganley BMW has long been a leader in automotive sales and repair. They have a vast selection of BMW models and provide an easy process for purchasing their cars. Their main focus is their commitment to their customers, and this has contributed to their longevity and success.
The local community and out of state clients come to Ganley BMW for their BMW repairs and shopping. Just off I-71, they are located on Pearl Road just ten miles from the Cleveland airport. Pre-owned and luxurious new BMWs are their specialties. To ensure their customers' BMWs remain in tip top shape, they have a full staff of knowledgeable and passionate car service gurus on hand to provide repairs and routine maintenance. We wanted to make sure our signs served such a great member of the community well.
Why Go with Window Cling?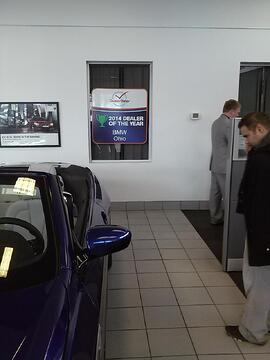 For Ganley BMW, they wanted to showcase their recent award to customers. Of course, the award was for 2014. In 2015 and 2016, it might appear a bit suspect for them to still have the sign up. Permanent window decals would not be the best option in these instances. We recommended vinyl window cling, which could be easily installed, moved, and removed whenever necessary.
There are many different materials we can use to produce window decals for car dealerships. Visibility out of your showroom will not be blocked when you go with our popular perforated one-way vision material for a full size dealership graphic for your storefront.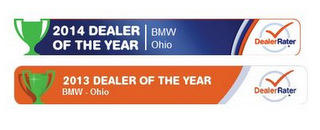 Many businesses prefer to go with window cling for a variety of reasons. It is made from vinyl decal film that allows it to be placed practically anywhere thanks to the versatile adhesive. You will see these on the doors and windows of the cars that are for sale. The window cling utilizes static electricity to stay attached to just about any surface. You do not have to worry about removing any adhesive. So, in addition to showcasing an award, window cling for Cleveland auto dealerships is also ideal for promotions and special events.
Just like we did with Ganley BMW, our graphic artists will sit with you for a free consultation to determine what window graphics will suit your purposes. We will then keep you informed throughout the design, fabrication, and installation process. And, we make it easy to get started...