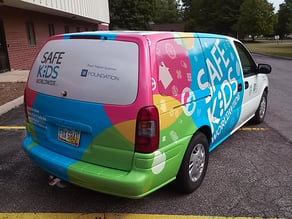 As newspapers and local television and radio stations dip in popularity, van wraps in Akron OH have become the most effective way to advertise your business or campaign. Compared to the more traditional forms of media and even the Internet, vinyl wraps do a better job of reaching your target audience. Plus, they are a very inexpensive way to get 24 hour a day, seven day a week advertising for many years to come.
Akron Children's Hospital recognized how important healthcare van wraps in Akron OH are for raising awareness for the hospital and their various campaigns, such as their Safe Kids Worldwide outreach.
What Is Akron Children's Hospital?
If you live in Northeast Ohio, you have likely heard of the Children's Hospital. They provide critical, specialized, and primary care to children. They also provide treatment at home. Their support staff deals with the practical details of a hospital stay, so families can focus on their sick children. Plus, with more than a hundred outreach, education, and advocacy programs, they help children reach their full potential beyond hospital walls.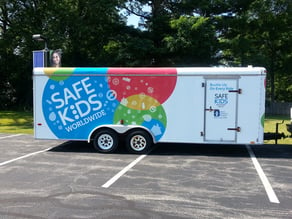 When an organization that provides such valuable services for the youth of our community contacted us to install their van wrap to promote their Safe Kids campaign, we could not wait to get started. Through education, public policy changes, and community awareness, Safe Kids implements and promotes strategies to prevent childhood injuries.
For Akron Children's Hospital's Safe Kids van wrap, the designer incorporated the logos for both the hospital and the campaign. Next, they perfectly replicated the typefaces and used vibrant colors to really stand out. Also, with a vinyl window perf design, the windows were also used to get the message across while still allowing the driver to see out of the windows. They were happy with the results of these wraps, and we were happy to install them. Our wholesale vehicle wrap services are by far the best in Northeast OH! Designers and marketers can ship the vinyl to us and we can print the design or install the already digitally printed vinyl professionally and timely!
Vehicle Wraps for You
When you attend events or are at a job site, it is an ideal opportunity to get your name out there and to make your brand more recognizable. Van wraps are a great solution for any type of business. In a recent study, it was found that each vinyl wrap has 30,000 to 70,000 impressions every day. That number just goes up when you wrap your entire fleet.
To really help your wrap get your message across, we recommend including your company's name, logo, web address, and phone number in large vibrant lettering. Remember your vehicle may be moving at high speeds when people see it, so you need to stand out for people to figure out who you are and what you do.
Epic Signs & Graphics specializes in helping companies with their branding. Whether it is precisely rendering logos on a vehicle wrap or matching company colors, we will help build your brand so it is recognizable and trustworthy. Plus, our professional installation team will apply the vinyl wrap specifically designed to fit the contours of your van.
We take care of all of your wrap needs. For a free consultation, contact Epic Signs & Graphics today!