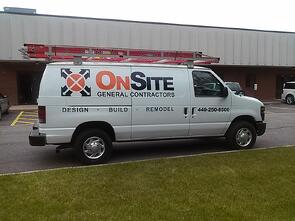 More people are choosing to remodel or build additions to their homes than ever before. Instead of venturing into the mercurial housing market, homeowners are choosing to upgrade their homes. This is making the general contracting industry more profitable and more competitive than ever before. With the competition so fierce, you need to use every resource available to you for getting your name in front of potential customers.
A growing number of general contractors are turning to spot vehicle graphics for Northeast Ohio for their fleet of work trucks. This gets their name out there on the road and on the jobsite, where they are showcasing their work. OnSite General Contractors appreciated the importance of building their name recognition throughout the area, so they contacted Epic Signs & Graphics for contractor van decals in Northeast Ohio.
Some Information About Our Client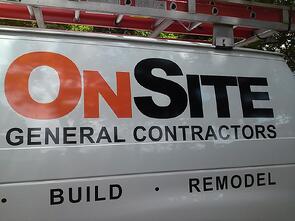 From their headquarters on Sharon Drive in Westlake, OnSite General Contractors is made up of a team of experienced professionals, who work together to complete high quality projects that exceed their clients' expectations. They remodel, build, and design bathrooms, kitchens, basements, decks, and more.
When a company that provides such a valuable service to local homeowners came to us for vehicle vinyl lettering in Northeast OH, we were more than happy to get right down to work. We began designing sharp, vibrant graphics for OnSite after we acquired a good understanding of their vision and goals during the initial consultation.
OnSite already had the artwork they wanted us to use. We had to incorporate this artwork into a layout that would be attention grabbing and memorable. After we created the design, we provided a proof for OnSite. Once they approved of the design, we used our wide format digital printers to print the design on Oracal cut vinyl. Finally, we installed the graphics professionally. In the end, they were ecstatic about the results.
Van Graphics for Your Fleet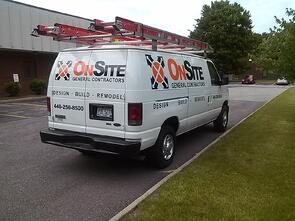 You do not always need expensive full vehicle wraps to get the attention of pedestrians and fellow drivers. In fact, if you have a white van or other solid colored vehicle, you can use fun, custom spot graphics. This is what OnSite chose for their white van. On the back and sides of their van, they advertise their company information and logo.
Take a moment to look at what we did for OnSite. You will notice that their services and a phone number for contacting them are easily readable. On average, people will have about three seconds to look at your graphics. This makes it imperative that you only include pertinent information on your vehicle and that it is simple for passersby to read it in a hurry. These principles guide us in our graphics creation process.
Virtually any image you can imagine can be produced on your contractor van with modern cutting edge materials and technology. If you would like to boost your advertising with effective and inexpensive vehicle graphics, contact Epic Signs & Graphics today!