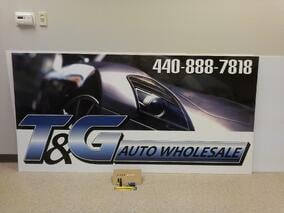 There are many different aspects to opening up a new business that can fall through the cracks during the rush and excitement of opening your doors to the public. One of the more important details that many new business owners may put off or are unsure about is obtaining signage for the new building. So, when the owners of T&G Auto Wholesale neared their grand opening date and did not have a sign, they turned to Epic Signs & Graphics to provide them with an affordable and durable solution.
Even the Small Business Administration (SBA) warns outdoor signs are a must-do!
About T&G Auto Wholesale
T&G Auto Wholesale is a brand new business in the Cleveland area. They are located at 5340 Pearl Road. They are so new that they do not even have a website up yet. But, T&G does have plenty of high quality used vehicles for sale. Owned by Gus Hamdan, T&G seeks to provide its customers with cars that are reliable and high performance while not putting too much of a strain on the bank account. After hearing about our skills at creating new business exterior building signs in Cleveland, they came to us for help. We were more than happy to lend a hand to a new business.
High Quality Digital Print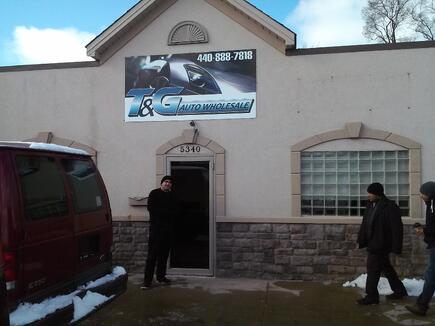 The first thing that strikes you when you look at T&G Auto Wholesale's new sign is the sharp graphics. Our graphic design team listened to what Gus wanted out of his sign, then we went to work to create a proof for his approval. He loved it! We were then able to use our wide format printers to digitally print the exact high resolution proof in four color graphics on 3M vinyl.
Now, Gus needed his sign in a hurry, so customers would know that he was open for business. Many businesses will just go with a banner that is tied up with some twine. Epic Signs & Graphics does not work that way. We were able to work with Gus's budget and adhere the vinyl graphic to some 6 mil PVC, which we in turn installed directly on the building. This achieved a much better, more professional impression than a temporary banner.
Permanent Solutions in a Hurry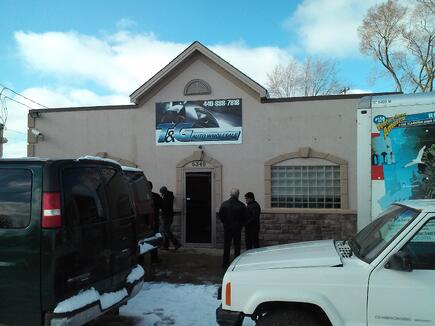 Many new enterprises fall into the trap of not purchasing a sign to announce their business because they do not know where to buy exterior building signs in Cleveland, or perhaps they think they're too expensive. It can be a mistake, however, to skip the important step of a building sign. Consumers may see a new company popup but what they may not know is what the business is all about. They may never cross the threshold of the storefront. But, with a sign showing your brand, you'll be reeling in interest and foot traffic.
You cannot afford to be without a sign letting people know who you are and what you do. The sign will pay for itself. And, even if you do not have long until your opening and are working on a shoestring budget, Epic Signs & Graphics can provide affordable solutions for you.