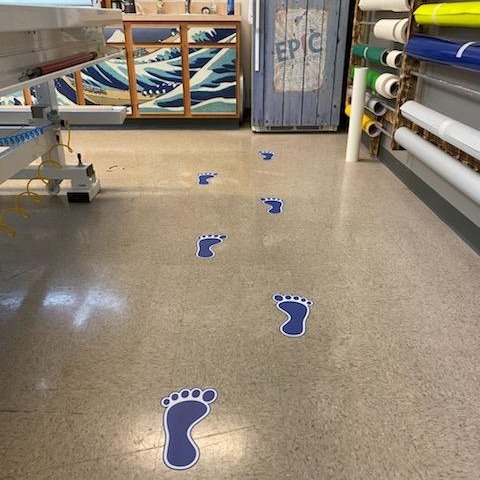 Whether it's practicing social distancing, increasing the use of sanitizer wipes, or wearing masks, the importance of safety in a business setting is something we all face on a daily basis these days. It's important to communicate to anyone entering your place of business the safety requirements and precautions you're taking during these unprecedented times. Vinyl decals are a great way to provide the signage you need.
The Importance of Clear Signage
It's important your visuals clearly communicate with your visitors. Sure, anyone can grab a piece of paper and tape it to the window, or slap masking tape on the floor. But it a) won't look professional, b) won't represent your brand, and c) can be unclear. Visitors can be confused about where to go or what requirements are involved once they enter your business. By applying window decals and vinyl decals throughout your workplace, you'll make it clear you're taking the situation seriously and they can feel safe entering your business.
Vinyl Sign Usage
There are many ways you can use vinyl decals and window vinyl decals to communicate with people who come to your business.
1) Directional Signs
In these COVID times, it's so important to communicate where people should go. Many businesses are required to have different entrances and exits of their facility. Also, they need to be able direct the flow of traffic in order to minimize contact with others, as well as show where pick-up areas are. Vinyl signage is great for this because it can easily be applied to any window, wall or flooring to make the pathway clear for your visitors.

2) Social Distancing
It's important to keep your distance while waiting in line, whether it be to check in at the front desk or checkout counter. Having a big duct-tape X on the floor isn't very appealing. But with vinyl decals, they'll not only look professional, but won't peel up like tape will. They stay put!
3) Mask Wearing Requirements
It's important to remind people to wear their mask before entering a building. By having a vinyl window decal communicating this, you'll avoid the uncomfortable conversation of having to ask them to leave. They'll clearly see it's required before walking in.
4) Enhance Your Barriers
In many restaurants and beauty salons, they now have clear, vinyl barriers put up between patrons. But you can make them more attractive with decorative signage applied to those barriers, or use a frosted decal to provide more privacy between guests.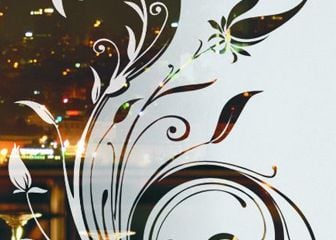 It's important to visually communicate how safe your business is--and Epic Signs & Graphics can help you. Keeping everyone safe is important to us, too!