It can be difficult for contractors to figure out which decals and vinyl graphics to use that will advertise 24 hours per day and seven days a week on their work vehicles. Whether it is vinyl lettering, full body or partial vehicle wraps or graphics, advertising on your work trucks is the best way to brand your business from contractor vehicle fleets to sole proprietors. Wolf Plumbing & Construction's success with their vehicle cut vinyl lettering and decals are a perfect example of this.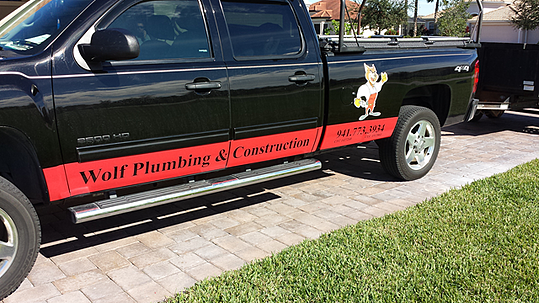 Most contractors have an idea of what they want. Others are brand new to their sector and do not have a specific logo or branding materials. We have graphic designers in-house who are skilled in helping customers that need help in creating a brand and subsequently, advertising that brand 24/7 with vehicle decals.
Graphic Design Is a Science and an Art
Our graphic designers do not just use a computer program to create your designs. In addition, they need to be able to figure out the best positioning for vinyl on a truck. Their work is a science and an art. They gather all the information they can on a contractor and the company's vision, goals, and mission by engaging the customer in a consultation.
Using industry leading software, the designer takes the specific client's information and combines it with the science and art of vehicle graphics creation to produce the perfect vinyl and decals for the vehicle. The goal is to create an eye catching advertisement for your company that garners the attention you want, even when the vehicle is just parked outside of your business or at the job site.
What Is Best for Your Vehicle?
Both the commitment of our graphic designers and their creativity are exceptional on every project they work on. There are a few factors that will determine what the best graphics are for your work vehicle. One of the big ones is your company logo. If you are part of a nationally recognized franchise or have a logo you are comfortable with, we can match the colors and designs exactly to create decals and graphics for Cleveland contractors.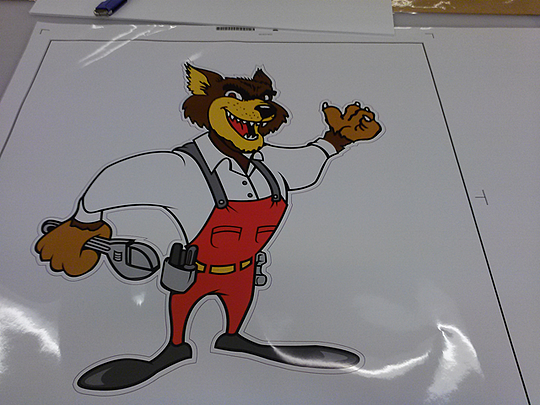 If you do not have a logo, we can work with you to help you create one for your contracting business. It is important to have a logo for branding purposes. You want to have an image that potential customers can see and subsequently connect with you. We will meet with you to create a logo you are excited about that showcases the aspects of your company that you want to highlight.
In addition to having a recognizable logo, to build a brand, it is important to have consistent colors in any materials that are advertising or marketing your company. Our designers deal with a full color palette. They will be able to match the colors you use for your marketing materials and enhance contractor branding with cut vinyl and vehicle decals.
As you can see, there is a lot that goes into producing successful cut vinyl lettering and decals like Wolf Plumbing & Construction utilizes for business branding and marketing. As your first course of action, we recommend consulting with us to figure out which graphics are best for your truck. Epic Signs & Graphics can help you today. Click below for a free quote!